Schedule and Venue
September 24th to October 2nd 2010, in Kanazawa, Japan.
Venue: Shiinoki Cultural Complex, Ishikawa Prefecture
These events are: the 18th World Computer Chess Championship, the World Chess Software Championship, the World Computer Chess Blitz Championship, the JAIST Computer Olympiad and the International Conference on Computers and Games 2010.
The conference commences on September 24th and will take place on three consecutive days. The conference proceedings will be published in the Springer LNCS series. Full details of the tournament schedule will be available in due course.
The official opening is on Friday September 24th. The prizegiving for the chess championships is on Saturday October 2nd as part of the closing ceremony. Moreover, the tournament hall is reserved on September 24th for participants to prepare their machines, testing the network, etc.
The events schedule is available here.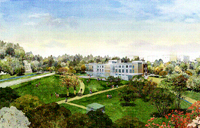 Shiinoki Cultural Complex, Ishikawa Prefecture