Global Communication Center
JAIST offers one of the most internationalized campus environment in the world, as almost 50% of its students and over 18% of its faculty members on the main campus come from overseas. The JAIST essentially aims at educating and training scientists, engineers, technology specialists who will play active roles on the global stage as "intellectually tough" leaders with superb knowledge and skills in not only specialized fields but also global knowledge and communication.
The Global Communication Center (GCC) located in the headquarters of International Collaboration Division at JAIST was established to provide an education that reflects a true global vision by offering English and Japanese language program to efficiently and effectively respond to the students' needs and diverse levels of language ability from the beginner to the advanced. In addition, to prepare students for their future role as global leaders, the GCC has developed a variety of courses to empower their communication ability and enhance their understanding of the globalizing world. The courses include Language Expression Technique, Diversity Studies, Japan Studies, Global Communication for Collaboration Building, Global Leadership Training Seminar, Practical English Intensive Seminar and Practical Japanese Intensive Seminar.
Moreover, in order to promote daily global communication on campus and to improve the scores of standardized language tests, the GCC offers TOEIC Workshop, JLPT Workshop, GCC Seminar Series. There is English Writing Lab to offer one-to-one assistance to students preparing to publish their research results.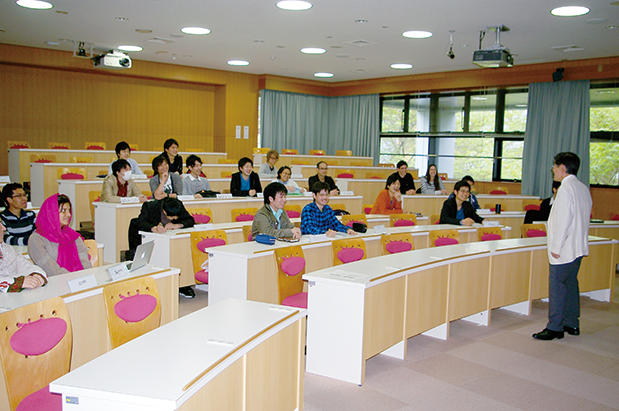 Every student takes the TOEIC test at least twice while at JAIST, a first time when entering the school and the other time 18 months later. The objective data of the score improvement are used to further improve the GCC programs.
In addition to their education and research in their major field, all the students are highly encouraged to take advantage of what the GCC offers them to be prepared for their future global activities.
For further information concerning the GCC, please visit our homepage by clicking on the URL link below.

URL: http://www.jaist.ac.jp/celeste/