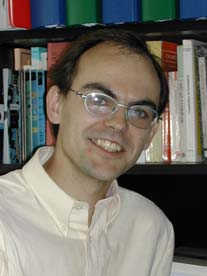 Name
Sur name: Le Masson Given name: Pascal
Contact (E-mail address, Web site)
lemasson[a_t]ensmp.fr,
Affiliation
Position: Assistant professor in Design, Innovation and Management Organization: Ecole des Mines de Paris Address: 60 boulevard Saint Michel 75 272 Paris cedex 06 Country: France
Major/Field
Engineering design and innovation management
Research Interests
Dr. Le Masson is working with Benoit Weil and Armand Hatchuel in a research program on innovative design. They propose to distinguish between : 1- "rule based design", ie classical systematic design, a century-old regime, very efficient as long as the objects are already known and knowledge is available at the beginning of the design process, and 2- "innovative design", when the identity of the object changes and/or when the needed knowledge is missing. To tackle with innovative design, they have proposed: -A new theory to model the design reasoning to cope with knowledge expansion and conceptual creativity: the C-K Theory (Hatchuel & Weil 2003) -New design-oriented organizations based on Innovation fields, Design Space and Value Management, able to integrate collective creativity -A new micro-economic : new forms of performance and efficiency in design-based economy
Selected Publications (max.4)
*

Le Masson, P., Hatchuel, A., & Weil, B. (2007) 'Creativity and Design Reasoning: How C-K Theory can

enhance creative design',

International Conference on Engineering Design, ICED'07

, Paris, pp. 12

*

Hatchuel, A., Le Masson, P., & Weil, B. (2006). 'Building Innovation Capabilities. The Development of

Design-Oriented Organizations.' In Jerald Hage and Marius Meeus (Ed)

Innovation, Science and Industrial

Change, the Handbook of Research.

Oxford University Press,

*

Hatchuel, A., Le Masson, P., & Weil, B. (2005) 'The Development of Science-Based Products: Managing by

Design Spaces',

Creativity and Innovation Management

Vol. 14, (4), pp. 345-354.

*

Le Masson, P., Hatchuel, A., & Weil, B. (2006) 'The design of science based-products: an interpretation and

modelling with C-K theory',

9th International Design Conference

, Dubrovnik, 15th-18th May 2004, pp. 33-44.