About the Workshop
The Workshop on Proofs as Processes II is a continuation of last years Workshop on Proofs as Processes. It will be held with the support of the Kurt Gödel Society, and a Royal Society Daiwa Anglo-Japanese Foundation International Exchanges Award in Noto, Ishikawa, from 12‐14 July, 2015.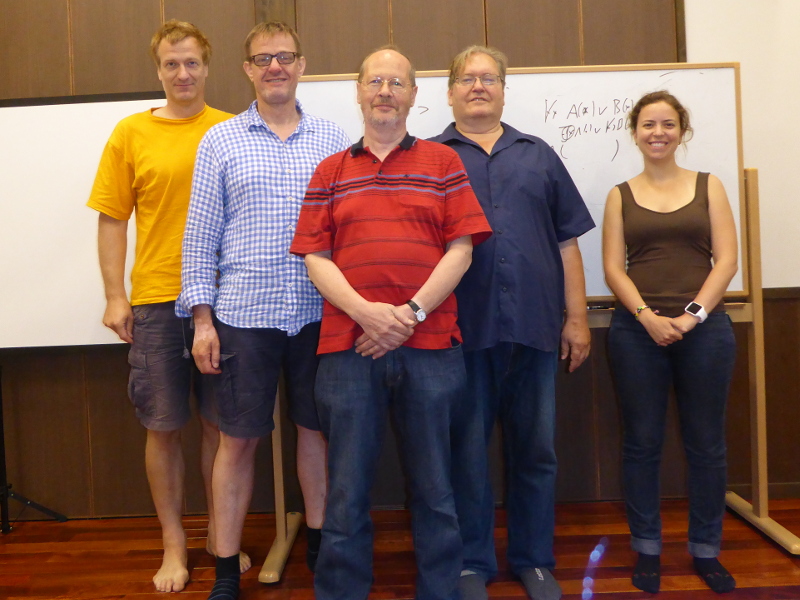 After the successful development of a Hypernatural deduction system (LICS 2015 etc) we will continue our long-term project on extending the classical Curry-Howard correspondence to hypersequent calculus and parallel processes. It will bring together scientists working on the various related fields who are interested in collaborating in the project.
Participants
Arnold Beckmann (Swansea University, Wales, UK)
Matthias Baaz (University of Technology, Vienna, Austria)
Alexander Leitsch (University of Technology, Vienna, Austria)
Norbert Preining (JAIST, Nomi, Japan)
Giselle Reis (INRIA, France)
Program
Matthias Baaz: Cut-elimination for prenex cuts in LJ is elementary
Arnold Beckmann: Hyper Natural Deduction - confluence and term systems
Alexander Leitsch: Algorithmic introduction of quantified cuts
Giselle Reis: Linear Logic
Matthias Baaz: Embarassing Proof Theory
Discussion and problems (post meeting)
by Giselle Reis on Linear Logic
Is linear logic with 2 subexponentials decidable?
Computational interpretation of linear logic: there is a work on interpreting linear propositions as session types in pi-calculus. More details at this paper.
Invertibility of inference rules: Following our discussion and the induction proof of invertibility Arnold pointed out, I wrote some notes on the subject (it is mostly for my own reference, but I think it is worth clarifying some details. Link in the email or on request).
by Alexander Leitsch on Cut Elimination
Note that the problem is fully solved for $\Pi_1$-cuts. The generalization to $\Sigma_1$-cuts and mixtures of $\Pi_1$ and $\Sigma_1$-cuts is easy.
While the substitutions generated by cut-elimination of $\Pi_2$-cuts have been characterized by some type of grammar (in a recent publication of Afshari, Hetzl and Leigh), the cut-introduction problem remains open - even for a single $\Pi_2$-cut. In particular it is an open question whether there exists a canonic solution (for the second-order problem ) of the schematic extended Herbrand sequent (and if this is not always the case is there a decision procedure for solvability?).
In the case of general $\Pi_n$-cuts even the syntactic characterization of the substitutions generated by cut-elimination remains an open problem. So far there is no decent grammar formalism known specifying the corresponding set of terms.
by Matthias Baaz on Proof Theory
Is there an elementary bound for the complexity of the cut-free proofs wrt the complexity of LK-proofs with only one prenex cut? (Note that such a bound does not exist if the cut is infix.)
There is an elementary bound for the complexity of cut-free proofs wrt the complexity of LJ-proofs not containing $v$ with prenex cuts only. Show that this result does not hold if $v$ is added.
Venue
Kinoura Village
, 927-1446 Ishikawa, Suzu, Oritomachi Hobu-25
木ノ浦ビレッジ
〒927-1446 石川県珠洲市折戸町ホ部25番1
Contributions and participants
Further participants are asked to contact the organizers.
Organising Committee
Arnold Beckmann

beckmann at swansea dot ac dot uk

Norbert Preining

preining at jaist dot ac dot jp