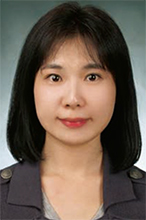 イノベーション創出のためのワーク
ショッププロセスをデザインしよう
キム研究室 KIM Laboratory
准教授:キム ウニョン(Kim Eunyoung)
E-mail:


[研究分野]
イノベーション科学、シングキングプロセス、ワークショッ プデザイン
[キーワード]
アイディア創出、イノベーション、知の構造化
研究を始めるのに必要な知識・能力
学際的アプローチが必要な研究なので、既存の専攻分野に制限はないです。自分の思考プロセスに対して深く省察して、自らの思考力で新しいアイディアを創出することを楽しむのが重要です。Interdisciplinary approach is required rather than depending on professional knowledge in a particular area. It is important to enjoy the stage of creative leap, and self-reflect on thinking process in generating new ideas.
この研究で身につく能力
創造的思考と関わる認知活動を解き明かすことができる。We can illuminate the cognitive process in creative works by analyzing and describing the thinking process in generating new ideas. Further, we can design the workshop process that facilitates us to generate innovative ideas.
【就職先企業・職種】 教育系企業, 情報デザイン系企業、研究開発職、クリエイティブ産業
研究内容
Figure. Conducting a group task
during the innovation workshop
We study almost all of topics on promoting innovations. Our research area covers knowledge science, pedagogy, cognitive science, cognitive psychology, behavioral studies, regional studies, business management, public administration, etc. The results of studies are utilized to design better innovation workshop. For this, our research includes following processes:
1) Building knowledge bases through case studies
Any themes that attract our attentions can be the subjects of our case studies – For example, from the soft topics such as the stories behind the local innovations, the events that changed my behaviors, to professional topics such as recent trend in technologies.
2) Conducting innovation workshops
Our study needs to be utilized in practice. Thus, we develop our studies by experiencing various types of innovation workshops in the perspective of participant, facilitators, and observer.
3) Identifying factors that affecting the creation of innovative ideas
Data collected from workshop should be analyzed to identify the influential factors for the creation of innovative ideas. Evaluation method should be developed.
4) Designing innovation workshops
Through the study, we can design our own innovation workshop to be implemented, which brings more social innovations.
主な研究業績
Eunyoung Kim and H. Horii, "Designing the Workshop Process for Generating Innovative Ideas: Theoretical and Empirical Approach." Business and Management Studies vol.2.(4): 30-41, 2016
Eunyoung Kim and H. Horii, "Analogical Thinking for Generation of Innovative Ideas: An Exploratory Study of Influential Factors", Interdisciplinary Journal of Information, Knowledge, and Management, vol11, 2016
Eunyoung Kim, "Japanese policy and programs for the fostering of global entrepreneurs", STI Policy Review, Vol.7, 1, 2016
使用装置
ワークショップの記録・分析環境: The devices that can record and analyze the workshop
グループ協力課題支援のためのソフトウェア: The software that supports group tasks
インタラクティブティーチング支援ツール: The tools that support interactive teaching
研究室の指導方針
構成員の多様性尊重のために公式の会議の意思疎通は英語にすることを勧奨します。
We will have biweekly paper seminar and lab meeting to report the research progress of members. We also encourage forming a special interest group for advanced research activities. Basic research should be conducted individually, however we strongly encourage cooperation among members and diverse stakeholders.
[研究室HP] URL:http://www.jaist.ac.jp/ks/labs/kim/wordpress/