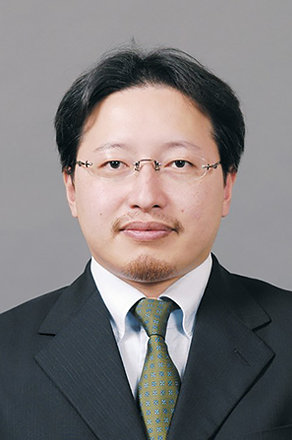 Development of nucleic acids drug
based on creation of designed molecules
FUJIMOTO Laboratory
Professor:FUJIMOTO Kenzo
E-mail:


[Research areas]
Nucleic acids chemistry, chemical biology
[Keywords]
Nucleic acid drug, Photochemical genome editing, organic synthesis, genetic diagnosis
Skills and background we are looking for in prospective students
In our laboratory, "Understanding the fundamental principles of science, by creating and designed original molecules combined with a rational and precise approach having special physical properties" is the main challenge. We develop new methods to further challenge various domains of science and welcome people with creative ideas to tackle these challenges from different scientific backgrounds.
What you can expect to learn in this laboratory
In this laboratory, we try to understand and develop natural/biological phenomena through the study of journal papers, study groups, scientific experimentations, research presentations, and other unique and innovative approaches. Initiatives taken to support students to grow their intellectual toughness:
◦ Laboratory seminar by eminent professors working in the major fields of science.
◦ Participation in technical schools held in Tokyo and Osaka
◦ Academic conferences (domestic and international)
◦ Support for publishing in international scientific journals
◦ Active participation in venture laboratories
◦ Joint seminar and exchange with collaborative research companies
【Job category of graduates】
Employment opportunities: University faculty, chemical industry, pharmaceutical companies, mechanical companies, electrical companies, research scientist, medical equipment companies, food industry etc.
Research outline
Modern genetic engineering technology is currently based on enzymes for the in vivo genetic manipulations. Moreover, the micro-robotics is also limited by the enzymes. In Fujimoto Lab, we use photo-responsive artificial nucleic acid to tackle the problem of genetic engineering with high specificity and precision through organic chemical approach coupled with photo-chemistry. We have developed a novel approach to manipulate the DNA or RNA using light instead of enzymes.
This research falls under inter-disciplinary research combining molecular biology, organic chemistry, information science, cell biology, and other fields. We are developing a strong and industrially viable approach for applications such as gene manipulation and analysis.
Upon UV radiation, DNA can get damaged by the formation of a pyrimidine dimer in the DNA strand. This [2+2] photo-cyclization reaction can be exploited using a photo-active vinyl group. To manipulate the nucleic acid using light, we require an artificial photo-reactive nucleobase incorporated in the DNA strand using synthetic organic chemical methods.
In our lab, we synthesize these photo-active DNA probes and incorporate them into the DNA strand to accomplish the branching of DNA which is otherwise not possible in the naturally occurring DNA strands. We have successfully created a complex DNA origami structure using the photo-chemical approach. Also, we can utilize this photo-chemical approach in the DNA chip to analyze human genome at the single base level with an accuracy 100 times higher than the conventional methods.
These phenomena are successful due to a particular artificial photo-active nucleobase called cyanovinylcarbazole (cnvK) which can cross-link to nucleic acid in a matter of few seconds upon light radiation. Using cnvK, ultrafast plasmid manipulation, cytosine to uracil conversion, gene repair, and genetic engineering has been achieved. It is also expected to be utilized for the ultrafast genetic analysis on a microchip for future medical technology applications.
Focusing on the programmability of DNA molecules, basic elements (AND, OR, NOT, etc.) can be implemented using DNA nanotechnology. To further realize advanced information processing, the calculation mechanism (status transition) for determining the next output based on the past inputs and the current input in the cellular machine it is essential to realize the chemical reaction in vitro to calibrate the circuit.
There has been no study on these kinds of circuits in the literature. In Fujimoto laboratory, the original [2 + 2] DNA photo-ligation reaction through photo cyclization reaction binds two DNA molecules using a template DNA and utilize the fact that this system use simple basic reaction elements (AND, OR, NOT, etc.) to successfully organize and construct a full adder circuit for calculation of binary digits through DNA molecules. These outcomes beautifully integrate the biochemistry with information technology to further lead to the development of DNA molecular robots. This has been highly appreciated as the fundamental research to create a backbone for further interdisciplinary research areas such as molecular robotics.
Key publications
T. Sakamoto, Z. Qiu, M. Inagaki. K, Fujimoto, Simultaneous amino acid analysis based on 19F NMR using modified OPA-derivatization method, Anal. Chem., 92, 1669-1673 (2020)
K. Fujimoto, H. Yang, S. Nakamura, Strong inhibitory effects of anti-sense probes on gene expression through ultrafast RNA photo-cross-linking, Chem. Asian. J., 14, 1912-1916 (2019)
K. Fujimoto, S. Sasago, J. Mihara, DNA photo-cross-linking using pyranocarbazole and visible light, Org. Lett., 20, 2802-2805 (2018)
Equipment
Automatic DNA/RNA synthesizer, Laser confocal microscope, HPLC/UPLC, Microplate reader, Fluorescence spectrophotometer, UV-LED, Atomic force microscopy, Biacore, etc
Teaching policy
The fundamental of our research lies in the precise molecular design related to DNA and the rational organic synthesis technique based on it. As each student tackles the original research theme, we cultivate fundamental synthesis technology, analytical technology and scientific viewpoint to capture the essence of research. On top of that, the students experience collaborative research with chemical companies, medical device manufacturers and pharmaceutical companies and let them acknowledge researchers' ways to contribute to society. In addition, we aim to cultivate autonomous researchers by utilizing laboratory-specific programs (laboratory seminars, joint seminars, technical schools, etc.).

[Website] URL:https://www.jaist.ac.jp/ms/labs/fujimoto/fujimotohp/