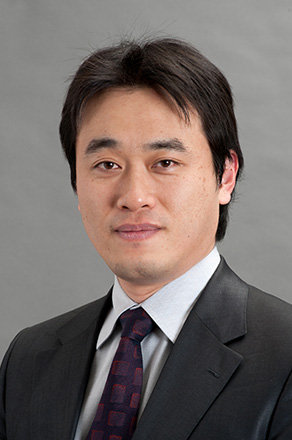 Microfluidic devices and sensors for biochemical and medical applications
TAKAMURA Laboratory
Professor:TAKAMURA Yuzuru
E-mail:


[Research areas]
BioMEMS, Microfluidics, Analytical Chemistry, Biosensor
[Keywords]
Blood analysis chip, Single cell analysis, Mass spectroscopy chip, Micro/Nano process, PZT Low-T process, Micro plasma
Skills and background we are looking for in prospective students
The subjects we have been dealing with are strongly interdisciplinary fields, so we welcome students from various backgrounds. We will assign research topics according to individual background/interest such as physics, machinery, electronics, control, materials as well as advanced nano-biochemistry technologies.
What you can expect to learn in this laboratory
Basic and practical skills in analytical chemistry. Some parts of our laboratory are closely related to molecular biology and/or materials science. Since we handle trace amount of sample so that students will learn a handling technique of trace amount of biological sample, interfacial treatment/integration between biomolecules and inorganic materials, observation / measurement technology of minute fluorescence and optical signal etc. In addition, you can also learn advanced micro/nanofabrication techniques, numerical simulation, material analysis methods such as TEM, SEM, XRD, XPS throughout your study.
【Job category of graduates】
Analytical, electronics, mechanics, equipment manufacturer, semiconductor manufacturer, materials science/engineering, chemical related.
Research outline
We are studying next generation biochip techniques for various biomedical and environmental applications, employing semiconductor technology, nanomaterials / biomolecules, micro / nanofluidcs, and lab-on-a-chip techniques. Our interest extends to a wide range in fusion of nanotechnology and biotechnology, understanding of phenomena in the nano & micro scale, and practical applications such as high sensitive point of care biosensors, manipulation of liquids on chip, analysis of single cell and single molecules, LEP-AES ultra-compact elemental analyzer, and various bio/chemical processing units.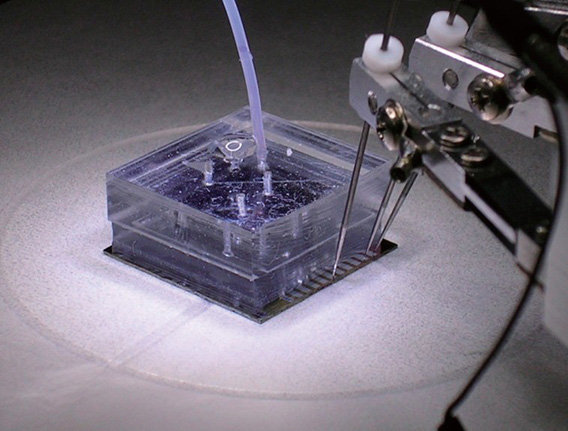 Figure 1. Integrated microfluidic
sensor and actuators.
Figure2. Concept model of total
integrated microfluidics devices.
1) Development of highly integrated biochemical chip
To realize a high-performance biochip, precisely fluid control on chip and highly sensitive detector are important.
In this laboratory, we are developing various liquid control mechanisms on chips including PZT actuator array by a solution process and novel detection technologies using nanomaterials and nanoscience (Fig.1). Using these, we aim to develop chips for single cell analysis in tissue at the molecular level, highly integrated biochip for general purposes (Fig.2).
2) Development of highly sensitive biosensing technologies
A drop of blood contains rich information representing various conditions in our body. Analyzing these enables various things, such as ultra-early detection of severe diseases, day-to-day health management, or guiding meals and exercise avoiding lifestyle disease.
To do this, we are developing various technologies to measure very small biomarkers with low-cost and user-friendly, including mass analysis chip, lab-on-paper, fully automated electrochemical sensors with fg/ml order limit of detection with comparable levels of cost and handling like SMBG (self-monitoring of blood glucose).
3) Development of hand-held elemental analyzer using micro liquid electrode plasma
By simply putting a liquid sample into a micro channel whose center is made narrower and applying high voltage from both ends, we found that quantitative and highly sensitive measurement of trace amount of elements is possible from the emission of the generated plasma. Using this principle, we are developing micro elemental analyzer that can measure on-site harmful metals (Hg, Cd, Pb, etc.) contained in food, tap water, soil factory wastewater / waste.
Key publications
Pulse-heating ionization for protein on-chip mass spectrometry, Kiyotaka Sugiyama, Hiroki Harako, Yoshiaki Ukita, Tatsuya Shimoda, Yuzuru Takamura, Analytical Chemistry, 86, 15, 7593-7597, 05 August 2014.
Development of automated paper-based devices for sequential multistep sandwich enzyme-linked immunosorbent assays using inkjet printing, Amara Apilux, Yoshiaki Ukita, Miyuki Chikae, Orawom Chilapakul and Yuzuru Takamura, Lab Chip,13(1), 126-135, January 2013.
High sensitive elemental analysis for Cd and Pb by liquid electrode plasma atomic emission spectrometry with quartz glass chip and sample flow, Atsushi Kitano, Akiko Iiduka, Tamotsu Yamamoto, Yoshiaki Ukita, Eiichi Tamiya, Yuzuru Takamura, Analytical Chemistry 83(24), 9424-9430, 04 November 2011.
Equipment
Clean Room and Semiconductor Fabrication Facility
Electrochemical Equipment
Surface Plasmon Resonance Equipment
Total Reflection single molecule microscope
Nano-imprinting systems
Teaching policy
Many of the recent new technologies in medicine and life sciences are based on the advancement of new engineering technologies, especially fusion of nanotechnology and biotechnology. We are welcoming students having various backgrounds such as biology, physics, mechanics, electronics, and chemistry. We set goals according to each student's background and purpose, and support and guide them to acquire what they need towards them.

[Website] URL:https://www.jaist.ac.jp/ms/labs/takamura/index_e.html