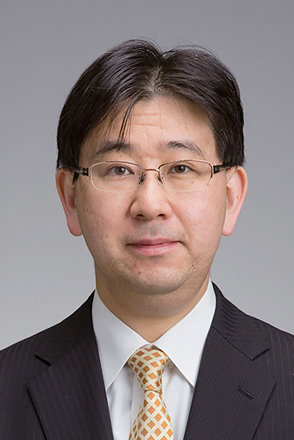 From Heteroatom Chemistry to Future Energy
MATSUMI Laboratory
Professor:MATSUMI Noriyoshi
E-mail:


[Research areas]
Creation of Energy Related Materials
[Keywords]
Lithium ion secondary batteries, Metal-air batteries, Electrocatalysis (oxygen reduction, photo-electrochemical water splitting), Solid polymer electrolytes, Ionic liquids, Organoboron compounds/materials
Skills and background we are looking for in prospective students
Aspiration, Intellectual Curiosity, Optimistic Character, Human skills to work in good harmony with other students/members If you have background in Organic Chemistry/Polymer Chemistry/Electrochemistry, it will be advantageous (not mandatory)
What you can expect to learn in this laboratory
Skills to design, synthesize and characterize materials. Skills to objectively analyze the data and understand their significance properly. Skills to arrange short term/long term research schedule. Skills to give presentation, to discuss about research data. Skills to communicate with other laboratory members in English. More technically, students can acquire skills on preparation of organic compounds under inert atmosphere, characterization of the prepared compounds by NMR etc., evaluation of ionic conductivity by impedance measurements, evaluation of charge-discharge characteristics of Li ion battery cells, photo-electrochemical evaluation of electrocatalysts etc.
【Job category of graduates】
Chemical companies, Polymer related companies, Printing companies, Mechanical companies etc.
Research outline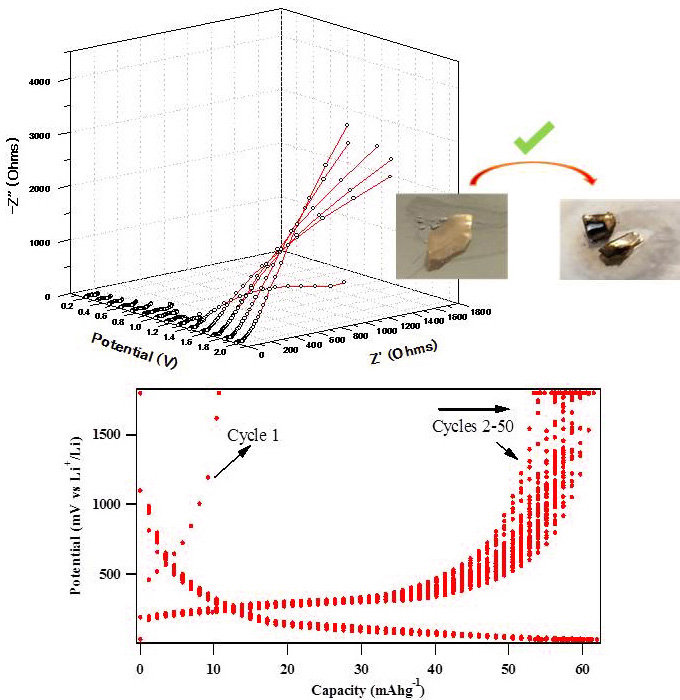 Organic-inorganic hybrid non-flammable electrolytes
1. Organic-inorganic hybrid electrolytes for battery safety
Design of non-flammable electrolytes are highly important class of materials for battery safety. By in-situ sol-gel condensation of alkoxysilane/alkoxyborane monomers in the presence of low viscous ionic liquids, we designed highly conductive ion-gel electrolytes which also exhibit thermal stability till 400℃. These electrolytes were used for fabrication of Li ion secondary battery cells, and the obtained cells showed reversible and satisfactory charge-discharge characteristics.
2. Single ion conductive and electrochemically stable organoboron electrolytes
Ordinary electrolytes generally show very limited selectivity for lithium ion transport (lithium transference number). In order to enhance the lithium transference number, addition of Lewis acidic organoboron compounds to electrolytes is a valuable approach. Some classes of ionic liquids were found to be miscible with organoboron compounds, and binary mixture of ionic liquids/organoboron compounds were designed. In the presence of lithium salts, these system showed maximum lithium transference number of greater than 0.9, which is extraordinary high among liquid electrolytes. Moreover, these systems were also found to show high electrochemical stability. When these electrolytes are employed for Li ion secondary battery cell (Li/electrolyte/Si), maximum discharging capacity close to 3000 mAhg-1 was observed.
3. Binder materials for high performance Li ion secondary batteries
In Li ion secondary batteries, PVDF have been widely employed as a binder material. However, PVDF is insulating in nature and fairly increasing the internal resistance of battery cells. We are designing electrochemically self-dopable conjugated polymer binders which shows remarkably reduced internal resistance after electrochemical cycles. This resulted in fairly improved discharging capacity of battery cells when compared with the case of PVDF binder.
Key publications
"Extreme fast charging capability in graphite anode via lithium borate type bio-based polymer as aqueous polyelectrolyte binder", A. Pradhan, R. Badam, R. Miyairi, N. Takamori, N. Matsumi, ACS Materials Lett, 5 (2023) 413-420.
"Black glass grafted micro silicon: a resilent anode material for high-performance lithium-ion batteries", R. Nandan, N. Takamori, K. Higashimine, R. Badam, N. Matsumi. J. Mater. Chem. A., 10 (2022) 15960-15974.
"Zinc blende inspired rational design of a b-SiC based resilent anode for lithium-ion batteries" R. Nandan, N. Takamori, K. Higashimine, R. Badam, N. Matsumi. J. Mater. Chem. A., 10 (2022) 5230-5243.
Equipment
Vacuum glove box, Impedance analyzer, Potentiogalvanostat, Cyclic voltammetry, Solar simulator, Gel permeation chromatography, Dynamic scanning calorimetry, Viscometer, Fluorescence spectrometer
Teaching policy
On the basis of organic synthesis, we are working on challenging research fields of high social demands such as Li ion secondary battery, electrocatalysts for oxygen reduction reaction (fuel cell/metal-air batteries) and photo-electrochemical water splitting. We welcome students of various backgrounds such as organic chemistry, inorganic chemistry, electrochemistry, polymer chemistry, analytical chemistry, photo chemistry, device oriented materials engineering etc.

[Website] URL:https://www.jaist.ac.jp/ms/labs/matsumi/english/index.html