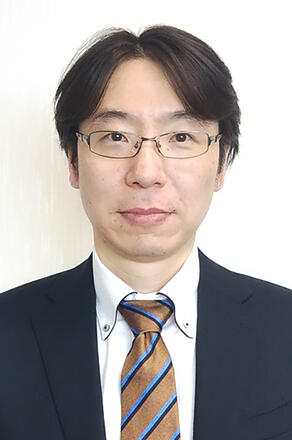 Functional polymeric biomaterials
for controlling the functions of living systems
MATSUMURA Laboratory
Professor:MATSUMURA Kazuaki
E-mail:


[Research areas]
Polymer Biomaterials.
[Keywords]
Polyampholytes, Zwitterionic polymers, Drug delivery system, Tissue Engineering, Hydrogels, Cryopreservation
Skills and background we are looking for in prospective students
Basic knowledge of chemistry is necessary for chemistry-based development of biomaterials that will be used in living organisms. This also entails knowledge of biology and medical science. The multidisciplinary approach must include chemistry and polymer chemistry.
What you can expect to learn in this laboratory
Biomaterials research is an interdisciplinary activity that includes chemistry, biology, medicine, and physics. By learning about the highly controlled function of living organisms and continuing research aimed at creating materials to correct dysfunctional behaviors, a wide range of academic disciplines is covered. These include biology, medicine, physics, and chemistry. 
Research on biomaterials is a need-oriented research whose purpose is clear, so it is possible to simultaneously foster problem-solving skills, which is especially valuable for PhD students.
【Job category of graduates】
Chemical and Medical-device manufacturer, materials related companies
Research outline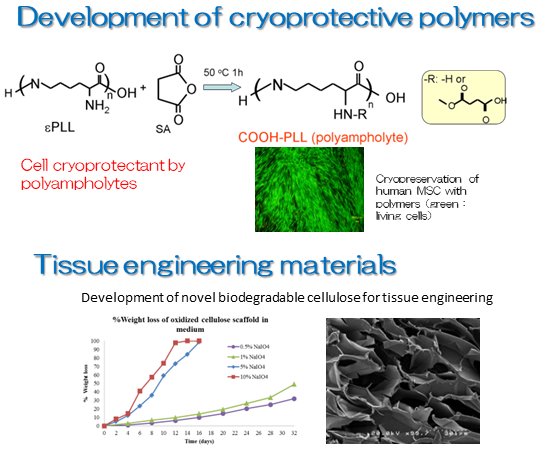 Figure. Examples of the research topics.
Functional Biomaterials
The creation of functional polymers has been widely studied as an application in biomaterials and tissue-engineering materials. Functional polymers have many applications with regard to biomaterials. These include hydrogels, bioabsorbable materials, and artificial bones. Bulky soft materials and colloids, micelles, and even solutions can be studied as materials for controlling the functions of cells or tissues.
Cryoprotective Polymers
Polyampholytes are polymers that have both positive and negative ions in the same molecule. We have demonstrated that several kinds of polyampholytes have a cryoprotective effect on cells in solution. This interesting phenomenon is a characteristic of polymers with high electron charge, especially polyampholytes. We will investigate and develop membrane-protective materials that can control cell functions by clarifying the mechanisms underlying such effects. Polyampholytes can change their conformation by controlling the polyion complex and thus exhibit various interesting physicochemical properties. We will try to develop novel functional materials by investigating the interactions between living systems and these polymers and by exploiting the physicochemical properties of the polymers.
Tissue-Engineering Biomaterials and DDS Nanocarriers
Biodegradable polysaccharide hydrogels for tissue engineering and drug delivery systems (DDS) are also being developed. We developed a novel degradation technique for dextran and cellulose by the addition of amine compounds, and elucidated the mechanisms of degradation. These biodegradable materials can be useful as cell scaffolds and drug-delivery nanocarriers.
Biomaterials Well-matched to Living Systems
We also perform basic and applied research on materials that are well-matched to living systems. This research aims at regeneration of functions in tissue engineering. In particular, we are trying to develop a novel cell culture scaffold and articular cartilage using hydrogels with high mechanical properties. The research being performed in our laboratory fuses chemistry and biology through polymer chemistry, toward the development of materials that can control living systems.
Key publications
Hyon W, Shibata S, Ozaki E, Fujimura M, Hyon SH, Matsumura K. Elucidating the degradation mechanism of a self-degradable dextran-based medical adhesive. Carbohyrd. Polym., 278, 118949 (2022)
Rajan R, Kumar N, Matsumura K. Design of an ice recrystallizationiInhibiting polyampholyte-containing graft polymer for inhibition of protein aggregation. Biomacromolecules, 23, 487-496 (2022)
Kumar N, Fazal S, Miyako E, Matsumura K, Rajan R. Avengers against cancer: A new era of nano-biomaterial-based therapeutics. Mater. Today, 51, 317-349 (2021)
Equipment
UV-visible spectroscope, Fluorescence spectroscope, Cleanbench for cell culture, Incubator, Infrared resonance spectrometer, Differential scanning calorimeter, NMR
Teaching policy
In our laboratory, we attempt to understand the fundamentals and applications of polymer chemistry and aim to apply these fundamentals to biomaterials research. For this, we need to be familiar with a wide range of disciplines, such as chemistry knowledge, biology, medicine, mechanical engineering, and others.
In addition, the range covered by biomaterials is diverse, such as artificial organs, regenerative medicine, drug delivery, and biosensors. We aim to acquire the knowledge necessary for research and development from a multilateral perspective. We also aim to nurture the problem-solving skills of our students. Students acquire presentation skills through several annual academic presentations and cultivate discussion abilities via a laboratory seminar once a week.

[Website] URL:https://matsu-lab.info/