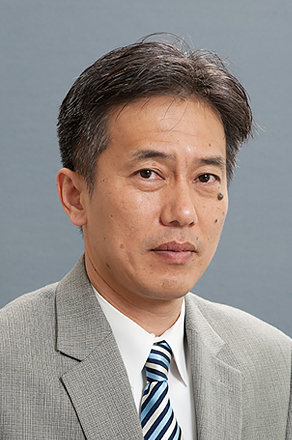 Design of High-Performance Polymer Materials by Rheological Approach
YAMAGUCHI Masayuki Laboratory
Professor:YAMAGUCHI Masayuki
E-mail:


[Research areas]
Material Design Based on Rheological Approach
[Keywords]
Polymer Rheology, Polymer Processing, Polymer Blends
Skills and background we are looking for in prospective students
Basic knowledge of polymer science, chemical engineering and physical chemistry
What you can expect to learn in this laboratory
Students will get the skill to develop a novel polymer material without using polymerization techniques. Basic concepts of polymer processing will be immediately available in industry.
【Job category of graduates】
Plastic/Rubber/Fiber Producers; Polymer Processing and Compounding Companies
Research outline
Rheology - the new science of deformation and flow for a material showing complicated mechanical responses - is necessary to develop advanced polymeric materials. Our laboratory is carrying out material design of functional and high-performance polymers based on the rheological approach to create novel displays, next-generation automobile parts, eco-friendly materials including biomass-based plastics, and so on. Moreover, innovation of polymer processing is also studied with our industrial partners, considering trouble-shooting of actual processing operations. Our research activities are outlined below.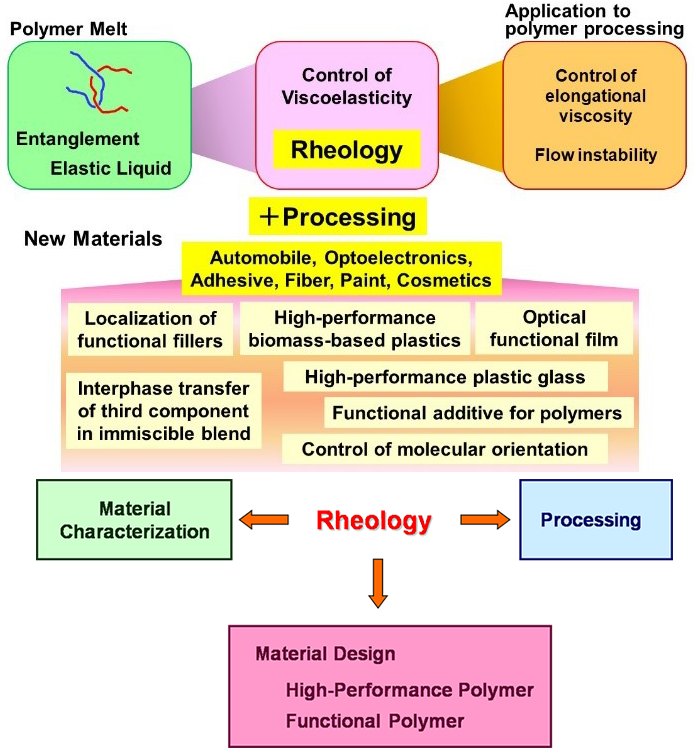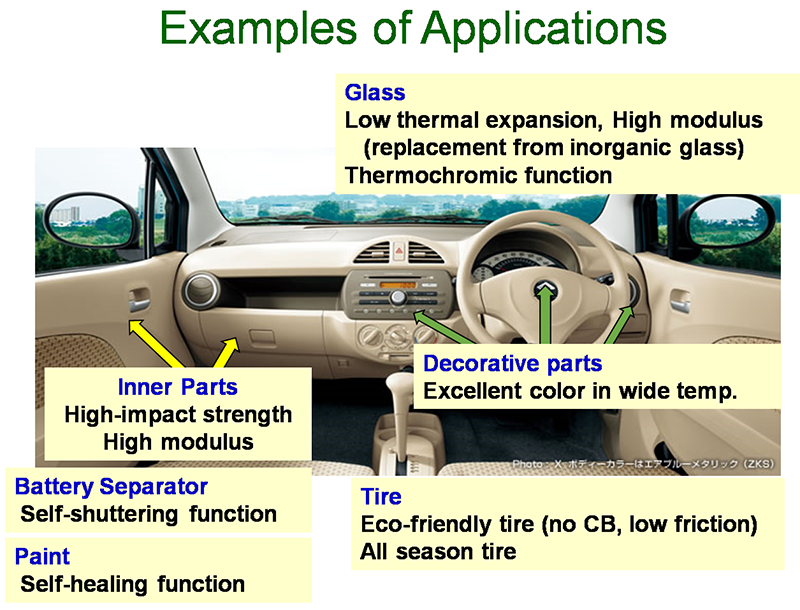 Rheology provides fundamental information on polymer processing. Based on the experiences and basic information on polymer sciences, extensive study on various processing operations such as foaming, injection-molding and extrusion is performed considering properties of final products. We also continue proposing new ideas to control the rheological properties including elongational viscosity. The obtained results provide new ideas for material design of high-performance or functional polymers.
We are carrying out various projects for material design employing conventional and/or newly developed polymers. Novel concepts to improve properties or to provide a specific function are proposed for the application of automobile, electric, and optical parts. Appropriate molecular structure, molecular aggregation state, and the processing method to obtain the morphology are presented in the field of rubber, fiber, paint, and plastics. Here are the examples of high-performance automobile parts developed by means of rheological modification.
Key publications
M. Yamaguchi et al., "Modification of rheological responses under elongational flow", in "Polymeric foams; Innovations in technologies and environmentally friendly materials", Ed. S. T. Lee, Chap. 2, CRC, Boca Raton, 2022.
M. Yamaguchi et al., "Novel methods to control the optical anisotropy of cellulose esters", in "Pulp Production and Processing", Chap. 13, Ed. V. Pope, De Gruyter, Berlin, 2020.
M. Yamaguchi, "Manufacturing of High Performance Biomass-Based Polyesters by Rheological Approach" in "Handbook of Composite from Renewable Materials", Chap. 2, Eds. V.K. Thakur, M.K. Thakur, Wiley, New York, 2016.
Equipment
Strain-controlled rheometer; Stress-controlled rheometer,
Capillary rheometer; Elongational rheometer, Twin-screw mixer,
Dynamic mechanical analyzer; Biaxial stretching machine