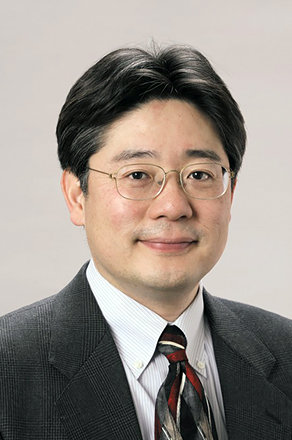 Development of High Performance and Stable Organic Electronic Devices
MURATA Laboratory
Professor:MURATA Hideyuki
E-mail:


[Research areas]
Optoelectronic devices based on organic semiconductors
[Keywords]
Organic Light Emitting Diodes, Organic Solar Cells, Organic Field Effect Transistors, Operando measurements, Exciton dynamics in organic semiconductors
Skills and background we are looking for in prospective students 
We are looking for students who are curious to develop optoelectronic devices based on organic materials. By considering your research experience and scientific background, we will determine your research project.
What you can expect to learn in this laboratory
You will learn fabrication techniques of organic devices using vacuum deposition method or solution process (spin-coating, dip-coating). You will also learn characterization skills of organic devices using several electrical and optical measurements. Besides experimental skills, you may learn fundamental sciences related to organic devices including device physics, materials science and photochemistry. You will also learn essential skills required as a researcher, such as management of research, documentation and presentation skills.
【Job category of graduates】
Researchers and engineers in electronics, chemical, machinery, battery industries, and faculty member in university and national institutes
Research outline

Flexible OLED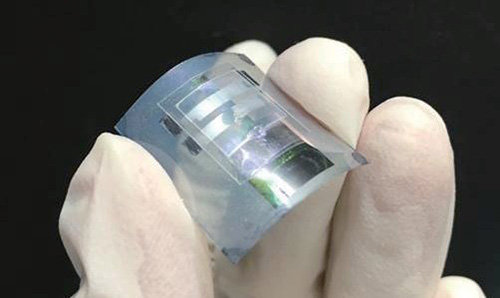 Flexible OFET memory
We have been working on organic electronics, such as organic light emitting diodes (OLEDs), organic solar cells, and organic memory. Professor Murata is interested in elucidating the degradation mechanism of OLEDs and developing new optoelectronic devices. Assistant Professor Eguchi is developing in-situ observation methods and measurement methods under operating environments. He is also conducting research on enhancing device performance of various devices and their mechanisms by surface and interface modification.
Elucidation of degradation mechanism of OLEDs
OLED displays provide the best image quality and they can also be made transparent, flexible, foldable and even rollable and stretchable in the future. The most important challenge in the current OLED field is to achieve high efficiency and durability in blue OLEDs. We are elucidating the degradation mechanism of blue OLEDs using fluorescent, phosphorescent and thermally activated delayed fluorescent materials. We have excellent research facilities to fabricated OLEDs and to characterize the devices by electrical and optical measurements.
Evaluation of structures and electronic states under device operation
We have recently started the development of Operando measurement systems to evaluate structures and electronic states of molecular thin films in actual organic devices under working conditions. These new measurement techniques enable us to deepen our understanding of device physics and to improve device characteristics. We are also planning to develop a new method to measure physical properties of thin films in situ during device fabrication process, and aim to develop high-performance organic devices.
Organic memory
We are trying to realize a non-volatile organic memory with a new operating mechanism that takes advantage of the characteristics of organic materials. We are developing new materials for 2-terminal devices with simple structures and 3-terminal devices based on transistors.
Key publications
K. Eguchi, H. Murata, Evolution of the Ionization Energy in Two- and Three-Dimensional Thin Films of Pentacene Grown on Silicon Oxide Surfaces, Journal of Physical Chemistry Letters, 12, 9407 (2021) (Journal Front Cover).
D. C. Le, D. D. Nguyen, S. Lloyd, T. Suzuki and H. Murata, Degradation of fluorescent organic light emitting diodes caused by quenching of singlet and triplet excitons, J. Mater. Chem. C, 8, 14873 (2020)
V. Vohra, K. Kawashima, T. Kakara, T. Koganezawa, I. Osaka, K. Takimiya, H. Murata, Efficient inverted polymer solar cells em- ploying favourable molecular orientation, Nature Photonics, 9, 403 (2015).
Equipment
Ultra-high vacuum depositing system,
High vacuum deposition system with glove box
Device characterization system
Photoluminescence quantum yield measurement system, Time-resolved photoluminescence and electroluminescence measurement system
Device stability measurement system
Photoelectron yield spectroscopy, Inverse photoelectron spectroscopy
Teaching policy
During undergraduate education, you may have learnt basic knowledge of your field of expertise. A graduate school is a place to carry out your research using your knowledge with acquiring advanced knowledge. Even if your research goes wrong and you face obstacles, the experience of overcoming difficulties is valuable. I think that a successful experience gives you confidence, and overcoming difficulties bring up you to the next stage.

[Website] URL:https://www.jaist.ac.jp/ms/labs/murata/index.html