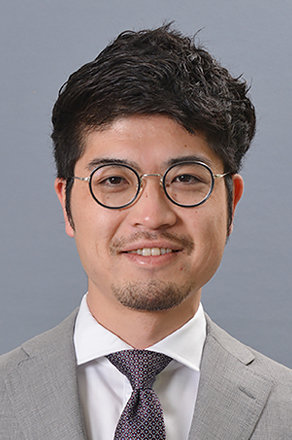 Polymeric organization inspired
from natural environment and biomaterials
OKEYOSHI Laboratory
Associate Professor:OKEYOSHI Kosuke
E-mail:


[Research areas]
polymer chemistry, photochemistry, soft matter
[Keywords]
polymeric gels, water, geometry of soft materials, photo-functional materials, energy conversion
Skills and background we are looking for in prospective students
We are seeking individuals who have experience or fundamental knowledge about polymer science, physical chemistry, material science, photochemistry, and soft matter. In particular, individuals who can handle challenges, and are innately curious and persevering are encouraged to apply.
What you can expect to learn in this laboratory
Academic subjects: Polymer science, photochemistry, soft matter science, colloidal science, surface chemistry, geometry, and non-linear science. Additional skills: Logical thinking and understanding, experiment designing, scientific verification, high-quality presentations, ability to communicate in English.
【Job category of graduates】
Manufacture of materials, healthcare industry, etc.
Research outline
Many beautiful patterns are visible in nature. For example, living organisms are created via self-organization from small molecules. This is derived not only from the material, but is also the result of strong environmental influence. In fact, life has evolved to adapt to changing environments, resulting in diverse spatial patterns and rhythms.
Furthermore, studies aimed at creating patterns by regulating the physical environment using artificially synthesized molecules have been performed in antiquity. However, synthetic molecules are seldom compatible with medical or industrial applications, and may not coexist in natural environments. In contrast, in our latest study, we demonstrated that natural polysaccharides can reconstruct hierarchical patterns from water. Hence, when we understand "how" and "why" patterns appear, we can acquire novel material designs that can fulfill the criteria of biocompatibility and environmental adaptability.
1. DRY & WET: Self-organization of natural polysaccharides
We are investigating the mechanism via which polysaccharides reproduce geometric patterns in centimeter scale in vitro. In particular, by controlling physicochemical conditions, we are exploring the law of spatial recognition exhibited in polysaccharides under dry environment. In a non-equilibrium environment, macromolecules are organized in both micro and macro forms. The fact that actual living organisms survive in dry environments while maintaining their body moisture could be critical for understanding biopolymer evolution.
2. Pattern control of soft materials
Regardless of their origin (biological or synthetic), several types of soft materials can be morphologically controlled by stress at the materials' interface. Only small environmental differences, such as slight changes in mechanical energy, can change shapes and patterns, e.g., spatial/temporal self-similarity. These patterns can be used in medicine as novel biomimetic materials that can efficiently adapt to the external environment.
Based on these viewpoints, the ultimate goal is to determine the laws regulating these phenomena and natural beauty. In summary, we are investigating one of the biggest enigmas of natural science, i.e., why does life create patterns?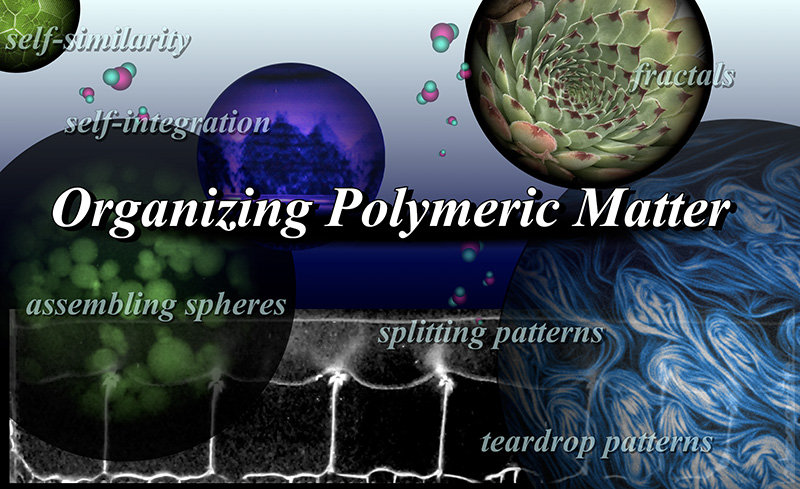 Key publications
DRY & WET: meniscus splitting from a mixture of polysaccharides and water. Okeyoshi K, Polymer Journal 52, 1185 (2020).
Vapor-sensitive materials from polysaccharide fibers with self-assembling twisted microstructures. Budpud K, Okeyoshi K, Okajima MK, Kaneko T, Small 16, 2001993 (2020).
Polymeric design for electron transfer in photo induced hydrogen generation through a coil-globule transition. Okeyoshi K, Yoshida R, Angewandte Chemie International Edition 58, 7304 (2019).
Equipment
Optical microscopes, optical spectrometer, polarized light devices, image analysis devices, fluorescence measurement instruments, viscometer, densimeter, dynamic light scattering, electron microscopes, etc.
Teaching policy
During the training period prior to working in society, we will support the selected candidate to expand his/her potentials to the best of our capacity. Our group provides a diverse environment both in terms of research and culture. This is a priceless opportunity for constructing a versatile scientific personality. Based on the above-mentioned research objectives, the candidate will consciously pursue research on the following lines:
1.Develop the abilities of logical thinking and foresight.
2.Design and verify hypotheses through experiments and discussions.
3.Learn to use scientific language for public outreach purposes.

[Website] URL:https://sites.google.com/oke-acgroup.com/web