News
Gold Leaf Experience and Stroll around the Higashi Chaya District
The 3rd Japanese Cultural Excursion in this year was taken place on February 24, 2017. 17 JAIST students left JAIST to visit one of the popular tourist areas in Kanazawa to experience cultural aspects of the historical city. To see and handle some 1/10,000 mm thin delicate gold leaf was a rare occasion and the students enjoyed it immensely. About a half hour later, they all created their own original gold leaf work. After that, they had tea with gold leaf frakes in it and looked around the store where the various gold leaf merchandises were sold.
Next, they strolled around the Higashi Chaya District. A visit to one of the national important cultural assets, the Ochaya Shima gave the students a chance to glance at the lives of the people of the time who were actually in the house entertaining and being entertained. It was impressive to be inside the building which remains the same as it was built in 1820. The students who tried the Shamisen, a three-stringed instrument and the Taiko drums and those who watched their friends enjoy the Japanese musical instruments surely made a special memory to bring home with.
It was a great opportunity for the JAIST international students to experience a small part of the Kanazawa's well-known historical cultural heritage together.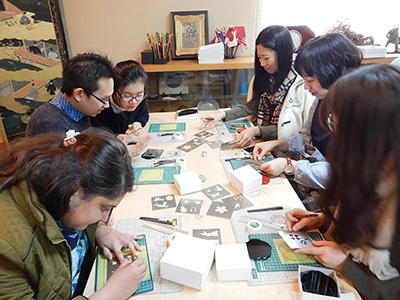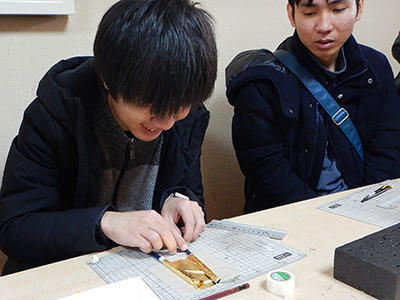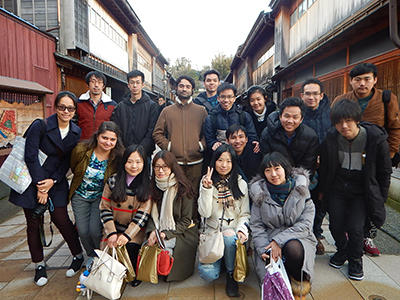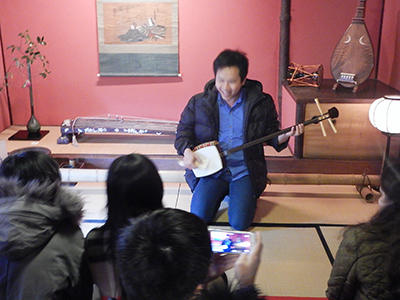 February 28, 2017