News
Entrance ceremony for fiscal year 2017 was held.
2017 entrance ceremony took place on Tuesday, April 4 at Tatsunokuchi Welfare Hall. 302 new students in the Mater's program and 36 new students in the Doctoral program, a total of 338 new students, pledged to "work on their studies sincerely and fulfill their student duty as a member of JAIST", signed by JAIST custom, and the delegate handed their signatures to President. President Asano read an address saying that "In this new era, your social competencies should hold primary significance. I would like to develop students with intellectual toughness who can manage their own goals."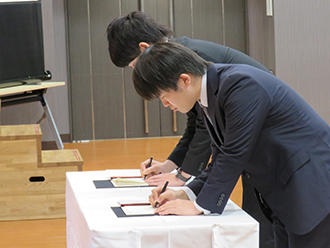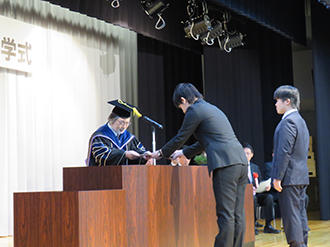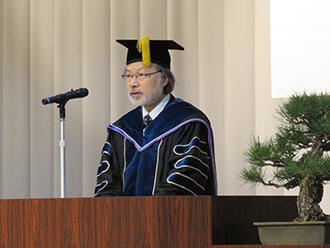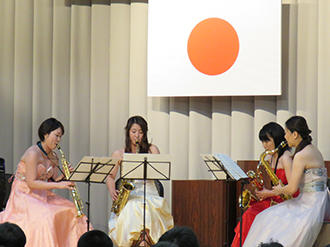 【President address】
Dear New Students, Congratulations on your joining JAIST today!
I believe, many of you feel this entrance ceremony at JAIST is very much different from the one you had at the university you graduated from. The idea of making an oath at the entrance ceremony was originally introduced by the first president of JAIST, professor Keii, and we have been keeping the tradition faithfully. I remember the first word from the president to new students at that time was not "congratulations," but something else with more strict implication. According to President Keii, entering a university was nothing to celebrate but an occasion for new students to state their determination. And the word "congratulation" was kept for the commencement ceremony.
In welcoming you to JAIST today, I would like to tell you about "intellectual toughness." This rather unfamiliar concept has been my most important key word since I took the position of JAIST president. Intellectual toughness, in short, is a power of challenge to seek for much broader experience and knowledge. Possessing an incessant challenging spirit is essential. Adding perseverance not to give up anything halfway to the challenging spirit will surely make you successful anywhere in the world. To have broader experiences, you need to try new places and fields seeking for different experiences without insisting on staying in a comfortable, familiar zone. It is equally important to experience life in both urban and rural settings. Changing your major field is not easy but it is important to be courageous enough to challenge a new field. Adapting to a new environment is not an easy task. Coming out of the comfort zone requires a tremendous courage and resolution. I believe, however, anyone that has tried to change something should be praised for such a courageous move.
According to the Fifth Science and Technology Basic Plan released by the Japanese government last year, the recent progress of modern science and ICT is "ushering in a revolutionary era where the structure of our economy and society goes through significant change on a daily basis." In view of this situation, the plan emphasizes "the ability to predict what will come, and act accordingly in strategic fashion, as well as the ability to respond appropriately to any changes taking diversity and flexibility into consideration." This is exactly what "intellectual toughness" means. In the conventional education, it has been considered important to be able to understand things. Accordingly, most assessments were designed to test your understanding, and your grades were determined on the basis of your examination scores alone. However, in this new era, your social competencies should hold primary significance. There is still no definitive way to assess social competencies, but I believe development of some rubrics may serve this purpose. Through a major university reform, I would like to develop students with intellectual toughness who can manage their own goals but not students with intellectual poorness produced in the conventional education.
I enjoyed watching some sport events on TV during the new year break. I was particularly fond of watching Hakone Ekiden, a long distance relay road race to and from Hakone and a All-Japan University rugby championship game. I was impressed that Coach Hara of Aoyama-Gakuin University who led his team to the three successive Ekiden championships and Coach Iwade of Teikyo University who led his team to the nine consecutive university rugby football championships said essentially the same thing. In the past, there was a very strict rule of obedience to upper-class students in every collegiate sports club. Both Coach Hara and Coach Iwade believe that no good athlete will be produced under such a tradition and that some reformation is required. What those coaches requested first to their students was setting and managing their individual goals by themselves. In case of a Marathon race, the coach lets the runners set concrete goals and make them think how to accomplish those goals. In any case, the coach created a thorough atmosphere for the students to think by themselves. It is my conviction that JAIST should develop students who can set and manage their individual goals by themselves. Dear new students, almost immediately after your joining JAIST, you will need to take some lectures. It is important to decide which courses to be taken. Since we have created one integrated graduate school, the conventional limit in selecting courses has disappeared. Taking your career goals and study goals into consideration, choose which courses to take. Do not forget to receive some advice from your temporary assigned supervisor. It is not a good idea to take too many classes in one quarter, influenced by some rumors. It is ideal to take three courses per quarter and make sure to earn their credits steadily. Only in case you think you have some room in your schedule, you may try the fourth course, but please do it with care.
JAIST is renowned for many international students on campus, but I think there is more to it than simply having a lot of students from abroad. I would like to take advantage of this global environment to activate our education. The ratio of international students to the total students is over 40%. Equally approximately 40% of our students have already experienced some work in society, which is related to the large number of our foreign students who have career experience. JAIST provides the most ideal global environment among Japanese universities.
Recently a teaching method called active learning including group learning has been prevailing. In case of universities carrying out a six-year integrated education course combining undergraduate and graduate programs, students have to stay with the same members and listen to the opinions from them for six years. In contrast, JAIST has a wide variety of students in their nationality, experience and specialty because of which group learning can produce wonderful education outcomes based on diverse opinions.
JAIST requires a written exam for every lecture course. I know that it can be rather easy to take courses at many other universities since evaluations are done only through reports. We stick to written exams, though, because we value the assurance of education quality yielded by the written exam. Of course, the tough written exam may fail some students. In my knowledge, however, there has been almost no student that failed a course after attending all the lectures and completing all the assignments. When we interviewed some failing students who claims no problem with attendance, we came to know that they attended just 10 lectures out of 13. You need to take it for granted that you attend all the 13 lectures. This resolution will surely help you obtain a master's degree in two years.
Dear new students, I am thinking of strolling around the campus rather often. If you see me on campus, just greet me casually saying "Good morning" or "Good afternoon." The greeting will not only provide you a habit of Japanese courtesy but also create friendly and comfortable atmosphere on campus. I would like to close my congratulatory speech, wishing your life at JAIST to become the most fruitful through your active commitment to changes for your bright future.
Thank you.
April 4, 2017