News
JAIST concluded Memorandum of Agreement on Double Master's Degree Program with Indian Institute of Technology Gandhinagar
JAIST concluded the Memorandum of Agreement (MOA) on Double Master's Degree Program with Indian Institute of Technology Gandhinagar (IIT Gandhinagar), on August 28, 2017.
In this program, JAIST and IIT Gandhinagar will send selected students to the other reciprocally and conduct collaborative research supervision by faculty members of both institutes in the field of Materials Science, which will enable the students to obtain Master's degrees from JAIST and IIT Gandhinagar respectively if they fulfill the academic requirements for degree completion in each institute.
IIT Gandhinagar is one of the twenty three institutes of Indian Institutes of Technology (IITs), which are renowned for its high standard of research all over the world. JAIST has been developing mainly short-term and medium-term student exchange programs with IIT Gandhinagar under the "FY 2014 Re-Inventing Japan Project" being conducted by MEXT since 2014, and these activities resulted in the conclusion of MOA this time. The double degree program will start from April 2018.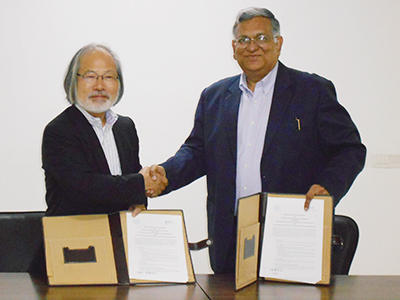 September 20, 2017