News
March FY 2017 Degree Conferment Ceremony
March FY 2017 Degree Conferment Ceremony was held at Cultural Hall of Tsurugi Cultural Complex (Crain) on March 23 (Fri), 2018. A total of 226 students: 195 students in the Master's program [School of Knowledge Science; 13 students, School of Information Science; 12 students, School of Materials Science; 5 students, Graduate School of Advanced Science and Technology; 42 students (School of Knowledge Science), 51 students (School of Information Science), 72 students (School of Materials Science)] and 31 students in Doctoral program (School of Knowledge Science; 9 students, School of Information Science; 11 students, School of Materials Science; 11 students) received their diplomas.
Each student received the diploma from President Asano, and shook hands with the dean and supervisor.
After address of thanks by the student representative was given, Institute song which JAIST established in March 2018 was unveiled. The song was written by Mr. Homei Miyashita, a JAIST graduate and was sung solo by Ms. Chiyo Nou, sopranist.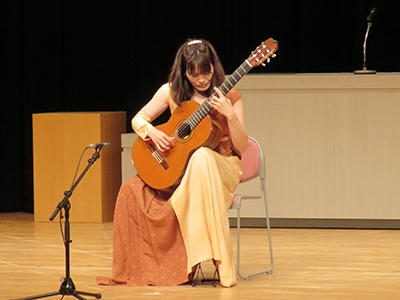 Classical guitar performance
before conferment of degree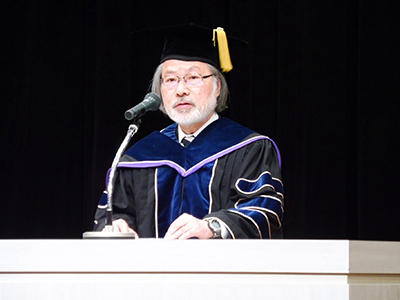 President Asano gives a
farewell address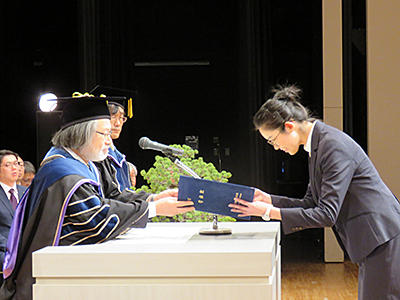 Student receives a diploma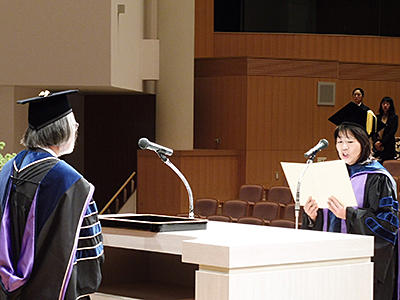 Address of thanks by the
student representative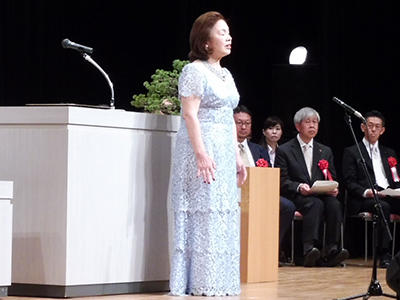 Institute song was unveiled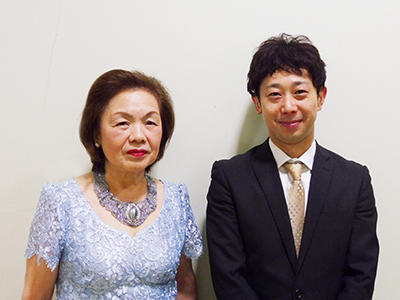 Mr. Homei Miyashita (right),
Ms. Chiyo Nou (left)
Commencement Speech of the President
Good morning, graduates, their family and friends, and faculty and staff of JAIST. I am pleased to welcome you all to this Commencement Ceremony. Dear graduates, I am truly proud of your accomplishment today, receiving a graduate degree from JAIST after years of hard work to successfully satisfy all of the requirements. I also know that your families are proud of you, too. Without their support you could not have been here today.
As everyone knows, the world today is facing an unprecedented scale of changes.In particular, the types of skills and talents that are needed are beginning to change greatly. In the field of science and technology, it was once enough to be familiar with a single specialty, but in the future society, a flexible way of thinking that can adapt to changes will be very valuable.So, how do we develop these adaptable skills and talents?I believe it is through confidence.
If you have unshakable confidence in your abilities, I believe that it will be easier for you to adapt to unexpected changes.What, then, can you do to build this confidence?Of course, it's not as simple as just deciding, "Yes, OK. I will be confident from now on."What is confidence? Think about your past efforts, and how hard you worked at the time.I believe that confidence is related to believing that you can work hard to achieve goals in the future, too.
All of you here today, at this commencement ceremony, have met the difficult requirements necessary to graduate from JAIST.At JAIST, every class has written examinations. I'm sure that it was a challenge to acquire all of the credits you needed in order to graduate.I believe that the shared space at JAIST, where students can support one another in their studies, played a large role in helping many of you accomplish your goals.In particular, after our three schools were integrated as one organization, the Graduate School of Advanced Science and Technology, it became easier to take classes in other schools.I suspect that many of you had few chances to talk with people in different fields of specialization before the integration.But now, under the new framework of a single graduate school, I think that you have had many more chances to talk with people in other schools.
And I believe that this has had effects on your ways of thinking, for all of you. You may not have noticed it at the time, but I believe that this has given all of you a broader perspective as you worked for your master's or Ph.D. degrees.
When we first started our integrated single graduate school framework, we worried about what might happen to the relationship between supervising professors and students.We were previously convinced that supervising professors had to provide instruction and guidance not only for research, but for all parts of their students' academic lives.At an ordinary university, students move on to a postgraduate program after four years of undergraduate study, and professors meet students during their first year at the university.
First impressions are difficult to change, though. When professors first meet students this way, they tend to get a strong and lasting first impression of the students when they are still young, from the first time they met.I believe that this first impression leads professors and students to develop a relationship that is like the relationship between parents and children.In reforming the system to be a single graduate school organization, this relationship was one of my targets for improvement.
I talked with students who attended open campus events, and found that students today think about much more than in the past.As I talked with students who have strong intensions about what type of research they want to do, I came to feel that some students choose the professors most likely to provide useful advice for the type of research they want to do.Students like these tend to only ask for research guidance from their professors, and do not seek advice on how to improve their study habits or other lifestyle questions.As a matter of course, I also found myself thinking that some students could aim for degrees in fields that are different from their supervisors' speciality.
I had hoped that we would see such brave students in the near future.But, incredibly, we saw it happen in the very first year of our single graduate school organization.It felt like a sign of the changing times.So we must not continue saying things like "the younger generation is no good," as people often do. I strongly believe that it is key for us to see the younger generation for who they truly are.In addition, I felt that we saw such independent students because of the fact that we have no undergraduate program at JAIST.I believe that it is extremely important to connect with each student as an individual adult, with no knowledge of their undergraduate years.
I hope to see each and every one of you go on to play important roles in your work, but I also want to mention the importance of the subtheme or minor research project, which is also central to education at JAIST.In recent years, more and more schools have subtheme, but when JAIST first opened, 27 years ago, it was the only university in Japan with a system of the sort.The purpose of the subtheme is to encourage students to develop multifaceted points of view.After starting research for a master's or Ph.D. degree, one might find oneself really enjoying the research, and develop a strong desire to focus specifically on a single research topic.Our bold decision to insist that students also work on subthema came from our hope that students would always leave some extra room in their minds.A questionnaire survey is conducted 10 years after graduation.The results tell us that there are many graduates who did not notice importance of sub-theme when they were studying but realized how useful they were after graduation.If you have an additional pocket of a subtheme, it broadens your view. I would like to ask you not to forget it and keep searching for new subtheme even after graduating from JAIST. If you have such a mind to keep looking for new subthemes then you can easily cope with changes.
I want you to recognize yourself as a qualified new global leader.I strongly hope for every one of you to take a great leadership in society or industry, and guide the world to the highest level of its development.
Thank you very much, and my congratulations to all of you.
March 23, 2018