News
Prof. Matsumoto, Security and Networks Area, has been recognized as Exemplary Reviewer by the IEEE Communications Society, representing his high quality review of the journals submitted to IEEE Transactions on Communications
Prof.Tadashi Matsumoto , Information Theory and Signal Processing Laboratory, Security and Networks Area, has frequently served as a reviewer of the journals submitted to IEEE Transactions on Communications. With his high quality reviews, he has been recognized as Exemplary Reviewer by the IEEE Communications Society.
The IEEE TCOM reviewers are appointed by the editor group of the society from among those who have exhibited very high activities in the technical areas covered by IEEE ComSoc. Exemplary Reviewers represent fewer than 2% of all our reviewers.
Reference:https://www.comsoc.org/tc/exemplary-reviewers
■Date of Award Received
June 28, 2018
■Comments
I am very much honored to know that my contributions to the IEEE ComSoc TCOM journal have been recognized as being Exemplary Reviewer. This recognition represents very diligent and hard work of my laboratory members, and also significant results achieved by the EU FP7 RESCUE project as well as other projects which we are one of the official members of. I hereby would like to express my sincere appreciation to their efforts, diligence and contributions, and shall continue leading our lab's world-class activities.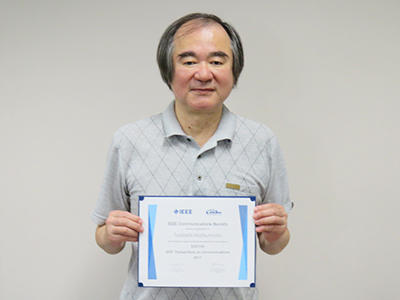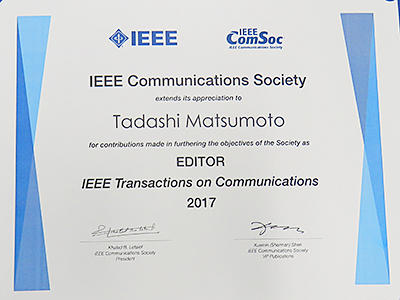 June 29, 2018