[summary]Online-Lecture from off-campus
Summary
Let's connect to SSL-VPN to access the online lectures.
* Of course, most of limited resource of JAIST will be available by the same method.
"Single-Sign-On(SSO)" will be required to use SSL-VPN.
If you set up a "one-time password for SSO" to your smartphone, tablet or PC, you can use it conveniently whenever SSO is required.
The procedure is as follows.
1.One Time Password authentication device registration procedure
When you have a postcard that says "Secret Key for setting OTP," please see the following page.
When you do not have a postcard, please see the following page.
Access the SSL-VPN device

(https://vpn.jaist.ac.jp/) from a Web browser.
Enter your user name and password on the integrated authentication screen.
If the digital certificate has been correctly imported into your Web browser, you will be authenticated with the digital certificate and be redirected to the VPN portal screen. In this case, you will not be asked to enter one-time password.
If authentication with digital certificate is failed, you will be redirected to the one-time password input screen. Enter the one-time password.
When the portal screen appears, click "jaist-vpn1" or "jaist-vpn2" to connect to SSL-VPN.
In order to establish an SSL-VPN connection, you need to install the application on your device.
(For the installation procedure, please refer to the link below.)
Windows:BIG-IP Edge Client Components
macOS:F5 VPN
Linux:F5 VPN
When the SSL-VPN connection is established, you will see "Connected" in a separate window. Please note that closing this window will break the SSL-VPN connection.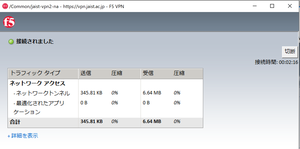 Keep the [connected] window on SSL-VPN open, let's try to open Online-Lecture(LMS) Website.
If you see the login window, it's succeeded.

On-Line Lecture(LMS)