1.
Please apply for one of the licenses; in laboratory terminal usage.
3.
Please enter the following values in the Surname Name field of the registration form.
In case of Work at home license (for personal PC) - Full name
In case of laboratory machine license - ID and MAC address
Please type the password and choose Japan as the country/region.
Note that the password set here is valid only for Adobe CreativeCloud with no relation to JAIST password.
4.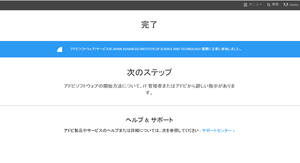 When registration is completed, the following screen will appear.
Proceed to select the menu in the upper right corner of the screen to expand.
9.
After the installation is complete, you will be asked to sing in to use the application.
Follow the same steps to sign in as you did when installing the application.