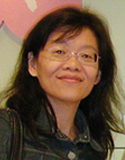 Name


Sur name: Tan
Given name: Ai-Girl


Contact (E-mail address, Web site)


tanaigirl2

[a_t]

hotmail.com (http://www.psy.lmu.de/excellence/personen/guest_prof/tan/index.html, visiting professor)


Affiliation


Position: Faculty
Organization: Nanyang Technological University
Address: 1 Nanyang Walk, Singapore 637616
Country: Singapore


Major/Field


Psychology, creativity, and multicultural education.


Research Interests


Creativity and interdisciplinary studies; creative problem solving, creative cognition, affect and creativity; invention and innovation.


Selected Publications (max.4)



Tan, A. G. (2007) (Ed.). Creativity: A handbook for teachers. Singapore: World Scientific.
Tan, A. G. & Heller, K. (2008) (Eds.). New dimensions of thinking (special issue). Korean Journal of Thinking and Problem Solving (renamed: The International Journal of Creativity and Problem Solving)
Tan, O.S., McInerney, D.M., Liem, A.D., & Tan, A.G. (Eds.). (2008). What the West can learn from the East: Asian perspectives on the psychology of learning and motivation. Research on Multicultural Education and International Perspectives (Vol.7). Charlotte, NC: Information Age Publishing.
Tan, A. G., & Goh, S. C. (2007). Creative teaching: A positive beginning. Singapore: Prentice-Hall (Pearson).