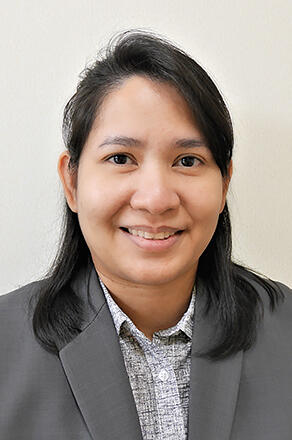 Catalyst to Polymer: Synergistic Materials Design
※新規の学生受入は行っていません
チャミンクワン パッチャニー 
講師:チャミンクワン パッチャニー(CHAMMINGKWAN, Patchanee)
E-mail:


[研究分野]
Catalysis, Polymer Chemistry
[キーワード]
Heterogeneous catalyst, polyolefin, nanocomposite, adsorbent
研究を始めるのに必要な知識・能力
We are looking for students who have chemistry-oriented skills. Basic knowledge in polymer chemistry and catalysis is preferred, but not imperative.
この研究で身につく能力
You will gain knowledge in catalysis and polymer chemistry from both of the academic and industrial perspectives. You will be guided to develop your own research direction that is an essential stage to be independent in pursuing your research interest in the future.
【就職先企業・職種】 Chemical Industry
研究内容
Catalyst designs for polyolefins
In spite of being at the top of the world polymer production, researches in polyolefins have been said as a mature area as the progresses have been made by the refinement of the existing materials. Meanwhile, growing concerns in environment and sustainability have brought polyolefins back to a spotlight due to their high life-cycle eco-efficiency, e.g., low energy consumption in the production process, recyclability for second-life use, etc. Likewise, the development of highly functional polyolefin materials with desired properties becomes essential for sustainable growth and to meet the requirement in today's advanced applications. Our lab aims to develop methodology and knowledge to access a new class of polyolefins with tailored properties by synergistic catalyst and polymer design.
Hierarchically structured porous materials
High performance and multifunctionality of solid materials often arise from multicomponent and multidimensionality of structural features. The hierarchy of materials on porosity is also one of the keys for high material performance in many applications. We aim to develop a method for controlling the structure and morphology of hierarchically structured porous materials for catalysis and adsorption applications.

主な研究業績
P. Chammingkwan, L.T.T. Mai, T. Ikeda, P. Mohan, Nanostructured magnesium oxide microspheres for efficient carbon dioxide capture, J. CO2 Util. 2021, 51, 101652-101652.
P. Chammingkwan, Y. Bando, L.T.T. Mai, T. Wada, A. Thakur, M. Terano, L. Sinthusai, T. Taniike, Less entangled ultrahigh-molecular-weight polyethylene produced by nano-dispersed Ziegler–Natta catalyst, Ind. Eng. Chem. Res. 2021, 60, 2818-2827.
P. Chammingkwan, M. Wannaborworn, L.T.T. Mai, M. Terano, T. Taniike, P. Phiriyawirut, Particle engineering of magnesium ethoxide-based Ziegler-Natta catalyst through post-modification of magnesium ethoxide, Appl. Catal. A: Gen. 2021, 626, 118337.
使用装置
Parallel stirred reactor system, spray drying machine, light-scattering, electromagnetic spinning viscometer, several units of high pressure reactors, etc.
研究室の指導方針
Students will be supported individually at an early stage of research works. After becoming familiar, students are required to pay attention to maximize work efficiency during the core-time to establish their own work-life balance. Regular meeting is held every 2-3 weeks to follow up the research progress. Presentations in domestic and international conferences are encouraged.

[研究室HP] URL:https://fp.jaist.ac.jp/public/Default2.aspx?id=650