Festivals From Golden Week through June
Seihakusai (Nanao)
Kutani Chawan Matsuri (Terai)
Otabi Matsuri (Komatsu)
$B@P@n8)$N:W$j(B
$B!!!!@DGp:W!J<7Hx!K(B / $B6eC+>FCcOR$^$D$j!J;{0f!K(B / $B$*N9$^$D$j!J>.>>!K(B
---
From Golden Week through June are some of Ishikawa's most famous festivals.
May 3-5 Seihakusai (Nanao)
May 3-5 Kutani Chawan Matsuri (Terai)
May 13-16 Otabi Matsuri (Komatsu)
June 13-16 Hyaku Man Goku Matsuri (Kanazawa: next issue)

Seihakusai (Nanao)
This festival is one of Ootokonushi Shrine. The name comes from the oak leaf offerings to the gods. People shout bravely as they march through the town with huge floats called "big mountains" which are twelve meters high and thirty tons at the base andwhich house offeringsto the gods. This respresentative festival of Noto is on a magnificent scale and is simple yet bold and full of action.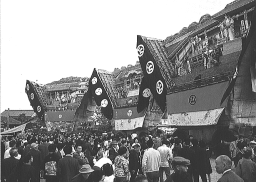 $B!!(B
$B!!(B

Kutani Chawan Matsuri (Terai)
Kutani is made of the five basic colors of red, rellow, green, purple, and indigo. It holds a 350-year-old tradition from the beginning of the Edo period and is now exported in great numbers to Europe. This annual festival is one of the Yukari shrine. After the war people kiln merchants began to sell the wares on the temple grounds. As the reputation of Kutaniware grew, so did the festival. It is held in two places within Terai: Terai and Sano.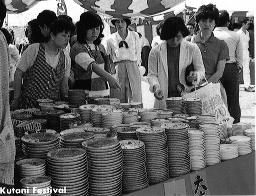 $B!!(B
$B!!(B

Otabi Matsuri
This festival is one of the three main festivals of Ishikawa Prefecture. The main attraction is children's kabuki performed on a float as it has been done since 1776. Eight places within the city alternate having the performances on an annual basis. Each location is no more than a five- to fifteen-minute walk from JR Komatsu Station. During this festival, however, roads are closed off so the use of public transportation (trains and buses) is advised.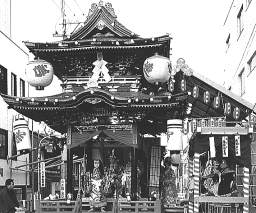 ---
4$B7n(B29$BF|$+$iF|K\NsEg$O%4!<%k%G%s%&%$!<%/$KF~$k$,!"$3$N;~4|$+$i(B6$B7n$K$+$1$F!"8)Fb(B3$BBg:W$j$r;O$a!"BeI=E*$J:W$j$,Fx$d$+$K7+$j9-$2$i$l$k!#(B

5$B7n(B3$B!A(B5$BF|(B

$B@DGp:W(B($B<7Hx;T(B)

5$B7n(B3$B!A(B5$BF|(B

$B6eC+>FCcOR$^$D$j(B($B;{0fD.(B)

5$B7n(B13$B!A(B16$BF|(B

$B$*N9$^$D$j(B($B>.>>;T(B)

6$B7n(B13$B!A(B16$BF|(B

$BI4K|@P$^$D$j(B($B6bBt;T!'Mh7nFC=8(B)

$B!z(B 5$B7n(B3$B!A(B5$BF|!!@DGp:W!J<7Hx!K(B $B!!@P@n8)$N(B3$BBg:W$j$N0l$D!#@DGp:W$O!"<7Hx;T$NBgCO$+IU$1$i$l$?!#!V$G$+;3!W$H8F$P$l$k9b$5(B12m$B!"=E$5(B30t$B$N5pBg$J1H;3(B3$B4p$r!"M&AT$J3]$1@<$H6&$KD.Fb$rN}$jJb$-JtG<$9$k!#5,LO$,M:Bg$G!"9kJ|$+$DAGKQ$J$3$N:W$j$OG=EP$rBeI=$9$k:W$j$N0l$D$G$"$k!#(B $B!z(B 5$B7n(B3$B!A(B5$BF|!!6eC+>FCcOR$^$D$j(B $B!J;{0fD.!K(B $B!!6eC+>F$O!"@V!"2+!"NP!";g!":0@D$N8^:L$r;H$C$?>FJ*$G!"9>8M=i4|$+$i(B350$BG/$NEAE}$r;}$A!"%h!<%m%C%Q$X$b?tB?$/M!=P$5$l$F$$$k!#KhG/=U$K6eC+>F$f$+$j$N&?M$,Nc:W$N6-Fb$G6eC+>F$rHNGd$7$?$H$3$m9%I>$r8F$S!"$@$s$@@9Bg$J:W$j$X$HH/E8$7$?!#:W$j$O;{0f2q>l!":4Ln2q>l$G9T$o$l$k!#(B $B!z(B 5$B7n(B13$B!A(B16$BF|!!$*N9$^$D$j!J>.>>;T!K(B $B@P@n8)$N(B3$BBg:W$j$N0l$D!#:W$j$N8F$SJ*$O;TFb$N;R6!$,1H;3$N>e$G1i$8$k!V;R6!2NIq4l!W!#;R6!2NIq4l$,9T$o$l$k$h$&$K$J$C$?$N$O(B1776$BG/0JMh$H8@$o$l$k!#(B8$B$D$ND.Fb$,1H;3$r=jM-$7!"KhG/8rBe$G>e1i$5$l$k!#$$$:$l$b(BJR$B>.>>1X$+$iELJb(B5$B!<(B15$BJ,$NHO0O!#$*N9$^$D$j4|4VCf$OF;O)5,@)$,$5$l$k$N$G!"8rDL5!4X$OEE

---

&lt MOVIES FROM ABROAD &gt &lt CONTENTS &gt

Copyright (C) 1995 COSMOS