IUI 2018 Workshop - Symcollab
Selfie Guidance System in Good Head Postures
Naihui Fang, The University of Tokyo
Haoran Xie, The University of Tokyo
Takeo Igarashi, The University of Tokyo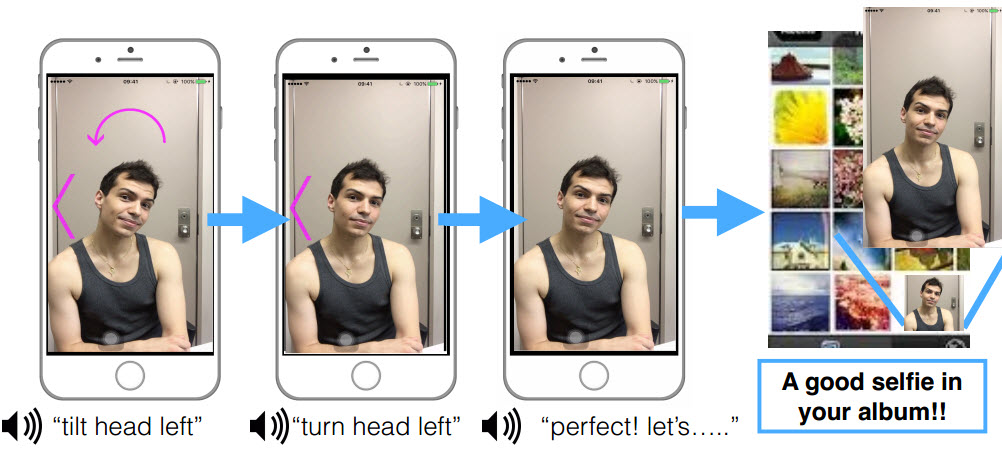 Abstract
Taking selfies has become a popular and pervasive activity on smart mobile devices nowadays. However, it is still difficult for the average user to take a good selfie, which is a time-consuming and tedious task on normal mobile devices, especially for those who are not good at selfies. In order to reduce the difficulty of taking good selfies, this work proposes an interactive selfie application developed with multiple user interfaces to improve user satisfaction when taking selfies. Our proposed system helps average users take selfies by providing visual and voice guidance interfaces on the proper head postures to achieve good selfies. Preprocessing through crowdsourcing-based learning is utilized to evaluate the score space of possible head postures from hundreds of virtual selfies. For the interactive application, we adopt a geometric approach to estimate the current head posture of users. Our user studies show that the proposed selfie user interface can help common users taking good selfies and improve user satisfaction.
Video
Downloads
paper:[PDF]
video: [Youtube]
presentation: [PPT]
SymCollab: [LINK]


Publication
Naihui Fang, Haoran Xie and Takeo Igarashi. 2018. Selfie Guidance System in Good Head Postures. In Joint Proceedings of the ACM IUI 2018 Workshops. SymCollab, pp. 1-8.
Acknowledgements
This work was supported by JST CREST Grant Number JPMJCR17A1 and JSPS KAKENHI Grant Number JP17H06574, Japan. H. Xie is funded by Epson International Foundation.
Related Projects
Learning Rubik's Cube through User Operation History (2020)
Sketch2Domino: Interactive Chain Reaction Design and Guidance (2020)
Sketch2VF: Sketch-Based Flow Design with Conditional Generative Adversarial Network (2019)
BalloonFAB: Digital Fabrication of Large-Scale Balloon Art (2019)