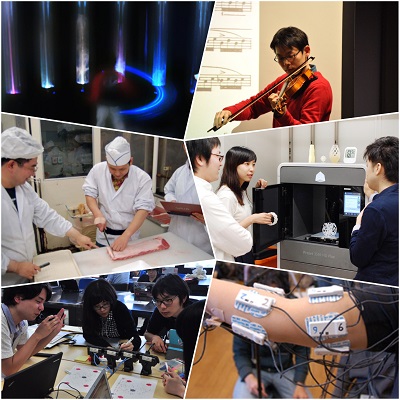 It is our great pleasure to invite you to attend the HLD International Symposium to be held at Kanazawa Bunka Hall and JAIST in March 2016. This symposium is a kick-off meeting aiming to introduce Human Life Design (HLD), which is a new field of study that seeks to amplify individual knowledge and apply it to improve the quality of life of the whole world.
International scholars, from organizations with which we conduct research collaboration abroad, will present the latest advancement and perspectives on the field of HLD. We expect this symposium will spark meaningful discussions helpful to set a practical direction for new HLD research.
Winners of the poster session have been decided.
Best Poster Award
Yawen Xue
A method for synthesizing emotional speech using three-layered model based on a dimensional approach
Ding Wei
Intelligent reactions between human body and the environment: Design of smart clothing
Outstanding Poster Award
Akane Matsumae
Practical experiments on designing and implementing of local innovation ecosystem
Naoki Kita
Vector pattern synthesis from spatial elements distribution
Satoshi Kadomatsu
A study on user interface problem finding based on flow line analysis
Free pick-up bus service between JAIST and the venue (Kanazawa Bunka Hall) is provided.
1st day (March 26th)
Depart from JAIST rotary at 08:00 AM
Depart from Kanazawa Bunka Hall entrance at 18:00 19:30

2nd day (March 27th)
Depart from JAIST rotary at 08:00 AM
Depart from Kanazawa Bunka Hall entrance at 17:00 17:30