News
June 6, 2013
Information Theory and Signal Processing Laboratory of School of Information Science, lead by Prof. Matsumoto, has won a Wireless Japan Outstanding Achievement Award from Nikkei Electronics. This award is granted to the laboratories conducting technical and/or scientific researches in the universities in Japan as well as to the venture companies pursuing technological advantage with their own ideas/concepts; it is not for an individual researcher but for laboratory's activities as a whole. The turbo signal processing research work for broadband wireless communications and its extension to entire wireless networks, conducted by Information Theory and Signal Processing Laboratory, School of Information Science, have been recognized as having the high potential for supporting technological advantage/lead of the related industries in Japan in the future.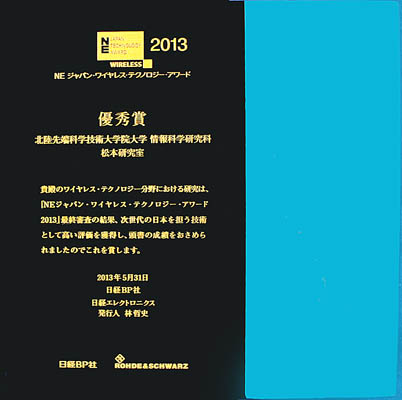 May 6, 2012
A Tutorial on the 75th IEEE Vehicular Technology Conference (VTC-Spring 2012), Yokohama, 6 May 2012.
Part 2:
Chained Turbo Equalization (CHATUE) for Block Transmission without Guard Interval -Application to Uplink SC-FDMA-
[Tutorial Handout 2]
Professor Matsumoto has been appointed as a Finnish Distinguished professor under the FiDiPro program jointly funded by Tekes, the Finnish Funding Agency for Technology and Innovation, and the Academy of Finland.
 The Hokkoku Shinbun, 2009/12/25 : IEEE Fellowship
 The Mainichi Newspapers, 2007/11/10 (PDF File)
 The Nikkan Kogyo Shinbun, 2007/10/23 (PDF File)
 The Hokkoku Shinbun , 2007/9/22
 The Chunichi Shinbun, 2007/9/22
 Kaleva.plus, 2007/9
* Permission for the website publication of the news articles have been acquired according to the rule specified by the companies.