ACM CHI2019 (LBW)
BalloonFAB: Digital Fabrication of Large-Scale Balloon Art
H. Xie*, Y. Peng*, S. Yoshida*, N. Chen**,, D. Xie*, C.M. Chang**, and K. Miyata*
(JAIST*, National Chiao Tung University**)

Abstract
We propose an interactive system that allows common users to build large-scale balloon art based on a spatial augmented reality solution. The proposed system provides fabrication guidance to illustrate the differences between the depth maps of the target three-dimensional shape and the current work in progress. Instead of using color gradients for depth difference, we adopt a high contrast black and white projection of the numbers in considering balloon texture. In order to increase user immersion in the system, we propose a shaking animation for each projected number. Using the proposed system, the unskilled users in our case study were able to build large scale balloon art.
Fabrication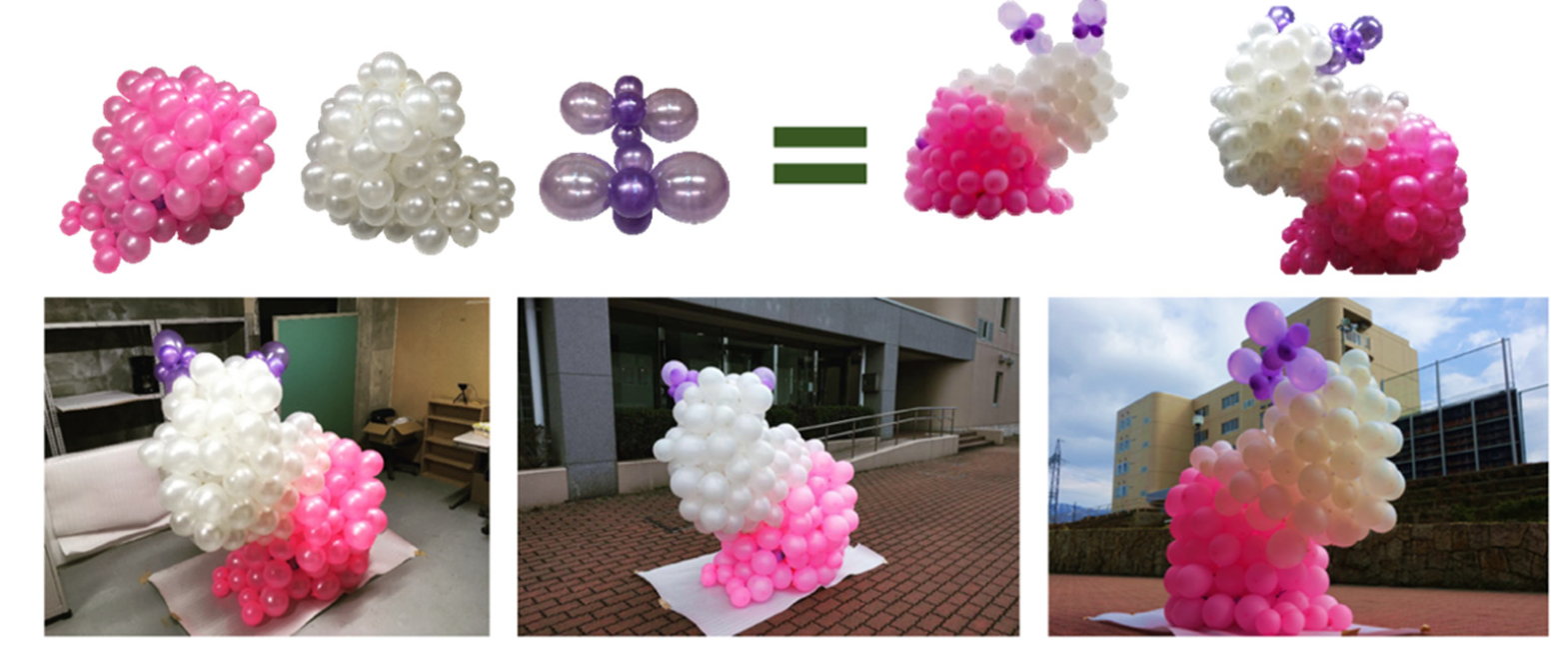 Video
Publication
Haoran Xie, Yichen Peng, Naiyun Chen, Dazhao Xie, Chia-Ming Chang, and Kazunori Miyata, BalloonFAB: Digital Fabrication of Large-Scale Balloon Art, ACM CHI Conference on Human Factors in Computing Systems (CHI 2019), Late Breaking Work, Glasgow, 2019.05. Link
Shogo Yoshida*, Yichen Peng*, Haoran Xie, Chia-Ming Chang, and Kazunori Miyata. Layered Projection Mapping for Large-Scale Digital Fabrication of Balloon Art. Journal of the Institute of Image Electronics Engineers of Japan, Vol. 49, No. 1, pp.25-32, 2020 (*equal contribution, in Japanese).LINK(PDF)
吉田匠吾*,Yichen Peng*,Dazhao Xie,Naiyun Chen,謝浩然,張家銘, 宮田一乘, 階層的プロジェクションマッピングによる大規模バルーンアートの制作支援, Visual Computing (VC 2019), 早稲田大学, 2019.06 (*equal contribution) LINK
Acknowledgements
This work is supported by JSPS KAKENHI grant JP17H06574, Japan and Higher Education Sprout Project grant 107-2200-001, Ministry of Education, Taiwan.
Related Projects
Learning Rubik's Cube through User Operation History (2020)
Sketch2Domino: Interactive Chain Reaction Design and Guidance (2020)
Selfie Guidance System in Good Head Postures (2018)