NICOGRAPH International 2020
GhostCube: Learning Rubik's Cube through User Operation History
S. Ajisaka, S. Hara, M. Matsuchi, S. Luo, S. Yoshida, H. Xie, K. Miyata
Japan Advanced Institute of Science and Technology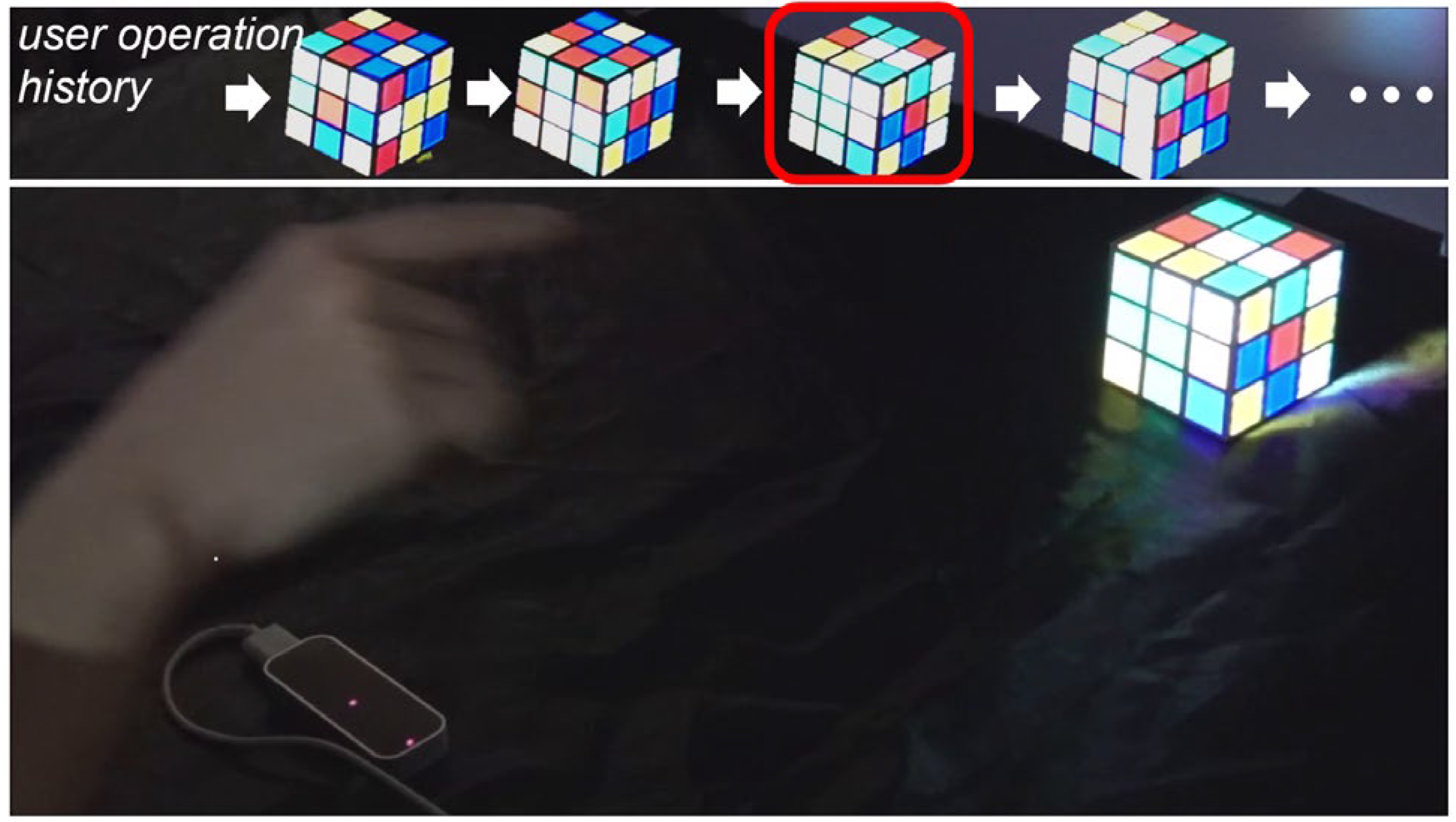 Abstract
We propose a learning framework of the Rubik's Cube through user operation history. The proposed system utilizes a spatial user interface by projection mapping of virtual Rubik's cube onto a display cube. The user can play the projected cube with predefined gestures via gesture recognition, and the system records the operation history automatically. As our case study, the users can explore the operation history on the tangible cube surface, and retrieve previous operations with the gesture input. We confirmed that the proposed framework is helpful in the learning and playing processes.
Framework

Video
Publications
Shuhei Ajisaka, Shinichiro Hara, Moe Matsuchi, Shuyang Luo, Shogo Yoshida, Haoran Xie and Kazunori Miyata. Learning Rubik's Cube through User Operation History. NICOGRAPH International 2020, short paper, Tokyo, 2020.06. LINK
鯵坂修平, 原慎一朗, 松内萌, 羅書洋, 吉田匠吾, 謝浩然, 宮田一乘, GhostCube: 逆再生によるルービックキューブ解法支援, インタラクション2020, インタラクティブ発表, 東京, 2020.3 LINK
Acknowledgements
We thank all the participants in our user study. This work was supported by JAIST Research Grant, Hayao Nakayama Foundation for Science & Technology and Culture Grant A, and JSPS KAKENHI grant JP20K19845, Japan.
Related Projects
Sketch2Domino: Interactive Chain Reaction Design and Guidance (2020)
BalloonFAB: Digital Fabrication of Large-Scale Balloon Art (2019)
Selfie Guidance System in Good Head Postures (2018)