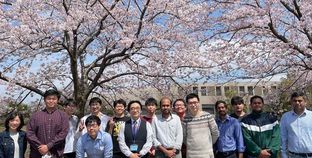 We at Mizuta Laboratory study nano-electronics, nanoelectro-mechanical systems (NEMS) and atom-scale devices based on two-dimensional materials such as graphene and ultra-thin silicon. Extremely functional devices are under development such as ultrasen-sitive environmental sensors which enables single gas molecular detection, ultra-low-power switching devices and quantum dot based quantum information devices.Mizuta Laboratory conducts a close international collaboration with a number of oversea research institutes including University of Southampton, UK, with frequent bilateral visits of staff and students.



Welcome to Mizuta Lab!
We welcome M1 students' visits on request.
Please send an email to Prof. Mizuta.
mizuta@jaist.ac.jp
Professor Mizuta recieved the MEXT research award!!
We also show the daily life of our group!! Twitter(@JAISTMizutaLab)

2023.05.30


Prof. Mizuta was introduced in the 2023 edition of the university introduction guidebook 'Ishikare' published by the University Consortium Ishikawa (page 17).

https://www.ucon-i.jp/newsite/jigyou/post-7.html

2023.03.22


A news article 'New machine-learning approach enables to identify one molecule in a billion molecules selectively with graphene sensors' was published on various news sites such as EurekAlert!, Phys.org, and The Graphene Council.

2023.01.11


News articles are publicized on EurekAlert! and AlphaGalileo for the world-first demonstration of Graphene-hBN van-der-Waals contact NEMS switches with ultra-low-voltage operation (<0.5V) and 50,000 stable switching repetition,

2022.09.21


Professor MIZUTA received the Fellowship award from Japan Society of Applied Physics (JSAP).
His award-winning research achievement is 'Functional electro-mechanical hubrid devices at nanometer-scale'.

2022.07.15


A new Research Center for Empathetic and Symbiotic Technology with Nature has just launched to tackle one of key research areas of JAIST.

2022.07.06


Professor MIZUTA is awarded for the 2022 Fellowship of Japan Society of Applied Physics.The award ceremony will be held during the JSAP Fall Meeting in September.

2022.04.22


The entire laboratory congratulates Sankar Ganesh Ramaraj, Research Associate, on his promotion.
Thank you, Sankar, for your great contribution! Take care!
<picture1>   <picture2>   <picture3>

2022.04.21


Mizuta-Manoharan Laboratory holds a group meeting every two weeks. The photo shows each student presenting their progress. New M1 students joined us this time!
<picture1> <picture2> <picture3> <picture4>

2022.04.18


New M1 students are warmly welcome to the Mizuta-Manoharan Lab Open event at 15:00 on Wednesday, April 27. Highly original research is going on here based on graphene and other monolayer materials for flavor sensors, lightning sensors, thermal diodes and valleytronics. Please register just by dropping an email to Prof. Mizuta (mizuta@jaist.ac.jp). Popping in without registration is also very welcome.

2022.04.11


In fine weather, we held a cherry blossom viewing party with new students. Surrounded by cherry blossoms in full bloom, the new academic year at the Mizuta-Manoharan Laboratory has finally begun.

<group photo>  <Scene of a meal>  <Today's HIROMESHI>  <Cherry Blossom Pictures>