We at Mizuta・Manoharan Laboratory
study nano-electronics, nanoelectro-
mechanical systems (NEMS) and atom-
scale devices based on two-dimensional
materials such as graphene and ultra-
thin silicon. Extremely functional devices
are under development such as ultrasen-
sitive environmental sensors which enables
single gas molecular detection, ultra-low-
power switching devices and quantum
dot based quantum information devices. Mizuta・Manoharan Laboratory conducts a close international collaboration with a number of oversea research institutes including University of Southampton, UK, with frequent bilateral visits of staff and students.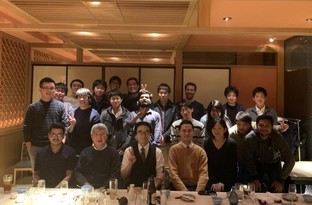 Welcome to Mizuta・Manoharan Laboratory!!
Professor Mizuta recieved the MEXT research award!! <link1> <link2>

2019.07.29


Professor Mizuta received the JAIST Distinguished Professorship and President Award 2019. <link1> <link2> <link3>

2019.07.25


The following paper by Mr KAREEKUNNAN Afsal, D3 student, has just been published online in Nanoscale.
'Electrically controlled valley states in bilayer graphene'
DOI: 10.1039/C9NR03621K

2019.07.04


The application 'Wave phonon engineering based on atomic layer NEMS functionalized using sub-nanometer ion beam' (PI: Prof. Mizuta) is granted for KAKENHI Challenging Research (Pioneering).

2019.06.29


Dr Ahmed Hammam, a JSPS Fellow, delivered a talk on 'My career and research in Japan' to the 2nd grade students at Koshi high school ', Fukui, <picture1> <picture2> <picture3>

2019.06.04


A postdoc researcher position is open for the project to develop graphene high performance gas sensors for ultralow gas concentration (good writing and speaking skills in Japanese is required).<link>

2019.05.23


Our research on graphene single-molecular sensing is highlighted in the May 2019 issue of Yano E plus journal published by a private sector think tank Yano Research Institute Ltd.<link>

2019.05.07


M1 students who wish to visit the laboratory, please send an email to Prof. Mizuta (mizuta@jaist.ac.jp).
We warmly welcome you all who are interested in the basics and applications of monolayer materials and devices regardless of your undergraduate expertise!

2019.04.10


Mizuta-Manoharan Lab will be open to new M1 students for 15:00 - on April 24. Please send an email to Prof. Mizuta for registration (mizuta@jaist.ac.jp).Those who participate without pre-registration are also welcome.

2019.03.05


Professor Mizuta delivered an Invited Talk at the 4th Malaysia-Japan Joint Symposium on Nanoelectronics and agreed with former and new Directors of UKM/IMEN on further cooperation on sensors & energy devices research. <link>

2019.01.10


Prof. Saito gives a talk in material science seminar "Disruptive Innovation of Si Photonics, by Si Photonics, for Si Photonics ". <link>