Polymer Nanocomposites
Polymer nanocomposites are hybrid materials in which nanosized particles are dispersed in a polymer matrix. The general aim of the polymer nanocomposites is to add the functions of nanoparticles to a polymer while maintaining the original advantages of the polymer, such as processability and low density. If the material is properly designed, the addition of a few percent of nanoparticles could induce physical properties that are completely different from those of the original polymer. In order to achieve this, it is essential to develop various technologies, e.g. for uniformly dispersing nanoparticles with different chemical affinity from polymers, for strengthening the interfacial bonding between polymers and nanoparticles, and for simultaneously controlling the dispersion and distribution of nanoparticles.
Taniike laboratory designs original polymer nanocomposites by using our knowledge of catalysts and nanomaterials. For example, we have invented a reactor granule technology that enables uniform dispersion of various kinds of nanoparticles for a wide range of the loading without a third component like a compatibilizer. Using this or other technologies, various functional materials have been developed, such as UV-blocking transparent plastics, heat-dissipating plastics, polymer film capacitors, and highly permeable nanocomposite filtration membranes.
Literature: i) Compos. Sci. Technol. 2017, 144, 151; ii) Polymer 2017, 127, 251; iii) Compos. Sci. Technol. 2014, 102, 120; iv) Compos. Part B 2019, 162, 662; v) Polymer 2014, 55, 1012; vi) Colloids Surf. A Physicochem. Eng. Asp. 2021, 614, 126204; vii) 特願2014-265887.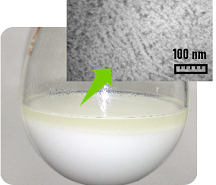 A reactor granule technology is our own technology to prepare polymer nanocomposites, which is based on the impregnation of porous polymer powders with filler precursors and their chemical conversion into highly dispersed nanoparticles during melt compounding. It is a simple and versatile solution for preparing highly functional polymer nanocomposites for various applications.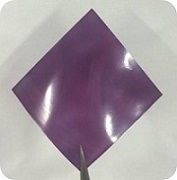 A nanocomposite with highly dispersed silver nanoparticles, which exhibits glossy, antibacterial, and nonlinear optical properties.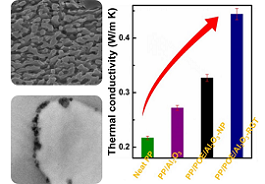 A nanocomposite in which the dispersion and distribution of aluminum oxide nanoparticles as well as the phase separation of the polymer blend are simultaneously controlled. Uniformly distributed thermal networks result in high thermal conductivity.