Awards
Prof.Kaneko, Energy and Environment Area,received The German Innovation Award-the Gottfried Wagener Prize-.
Prof.Tatsuo Kaneko, Energy and Environment Area,received The German Innovation Award-the Gottfried Wagener Prize-.
The German Innovation Award-the Gottfried Wagener Prize- was established by technology-focused German companies and the German Chamber of Commerce and Industry in Japan in 2008 to provide support for young researchers in Japan and encourage collaboration between German and Japanese industry and academia. The award was named after German scientist Gottfried Wagener (1831-1892), who came to Japan in 1868 where he made major contributions to science and education. The German Innovation Award is organized by the German sponsor companies and the German Chamber of Commerce and Industry in Japan. It receives valuable support and cooperation from many German and Japanese scientific and political institutions, such as Embassy of the Federal Republic of Germany, the Federal Ministry of Education and Research, German Research and Innovation Forum Tokyo, the German Academic Exchange Service, the German Research Foundation, the Fraunhofer-Gesellschaft, the Japan Science and Technology Agency and the Japan Society for the Promotion of Science. Recipients of the German Innovation Award are decided following a preliminary screening by technology specialists drawn from the sponsoring companies and a review by a jury comprising permanent members and expert members from Germany and Japan.
The Award has had a wide reach: to date 51 researchers, of which 36 were lead-researchers, have been selected. To be eligible, researchers must be under 46 years of age and be affiliated with a Japanese university or research institute. The research has to fall within one of the areas of Materials, Digitalization & Mobility, Energy and Life Sciences. It must be application-oriented and provide innovative and creative solutions.
In this year 68 entries were applied from universities and research institutions across the country. An Expert Panel of subject-area specialists from industry and academia evaluated the written research proposals and short-listed seven final candidates. The Jury interviewed the finalists on May 17 and selected one winner from each area.



■Date awarded
June 19,2017

■Title
Development of transparent bioplastics with high thermal /mechanical performance using exotic amino acids

■Abstract
The long-awaited reduction in the weight of transport equipment parts requires new materials that are lighter, stronger, and have higher thermodynamic performance. To build a more sustainable society, significant expectations have been placed on inexpensive bioplastics made from natural molecules, but their applications are limited to disposable products since they are normally soft and easily degradable. The addition of reinforcing agents increases the opacity of the material, but the weakness is that the material does not become transparent. To resolve these issues, Professor Tatsuo Kaneko, and his team developed a new biomass polymer that utilizes the characteristics of natural molecules. Focusing on the exotic 4-aminocinnamic acid, with its rigid chemical structure similar to that of the spice cinnamon, they designed a molecule with both high thermodynamic performance and transparency. First, a synthetic gene of this aminocinnamic acid was transformed into E. coli, and produced inexpensively in large volumes. The truxillic acid framework was then formed by photoreaction and polycondensation with cyclobutane ring sandwiched between two benzene rings. This framework retains rigidity although the slight bending site of the cyclobutane ring works as a molecular spring, dramatically improving its strength. The resulting polymer bioplastic is transparent and three times stronger than glass. It is thought to be the strongest material among the transparent resins. Furthermore, the thermal decomposition temperature of 425 °C is very high. A transparent memory element has also been made using this material. Kaneko stated that 'We worked very hard on the molecular design and accomplished it. With this framework, the polymer bioplastic may become a substitute for glass and dramatically influence the use of environment-friendly bioplastics.

■Comment
I am surprized to be award the German Innovation Award which can be said as a gateway to young mid-career researchers. I would like to say that it is impossible without the support of Professor Takaya at the University of Tsukuba. I would also like to thank everyone involved in JST ALCA for their long-term support and encouragement. In addition, I would like to thank Dr. S. Tateyama who is a joint winner and Dr. A. Miyazato who is our technical staff, both of who have worked on molecular design together. In the field of bioplastics, social significance has already been accepted and it is regarded as particularly important in Germany and other European countries. However, in Japan the value is unexpectedly considered to be low at present. Through this authoritative award, I hope Japan will recognize that bioplastics are an important concept for creating innovative new functional materials. In addition, I hope that safe plastics will continue to be produced all over the world. Finally I would like to express my sincere gratitude to the staff from Osaka University and all the professors who supported us at the end, as well as to the students and staff of my laboratory.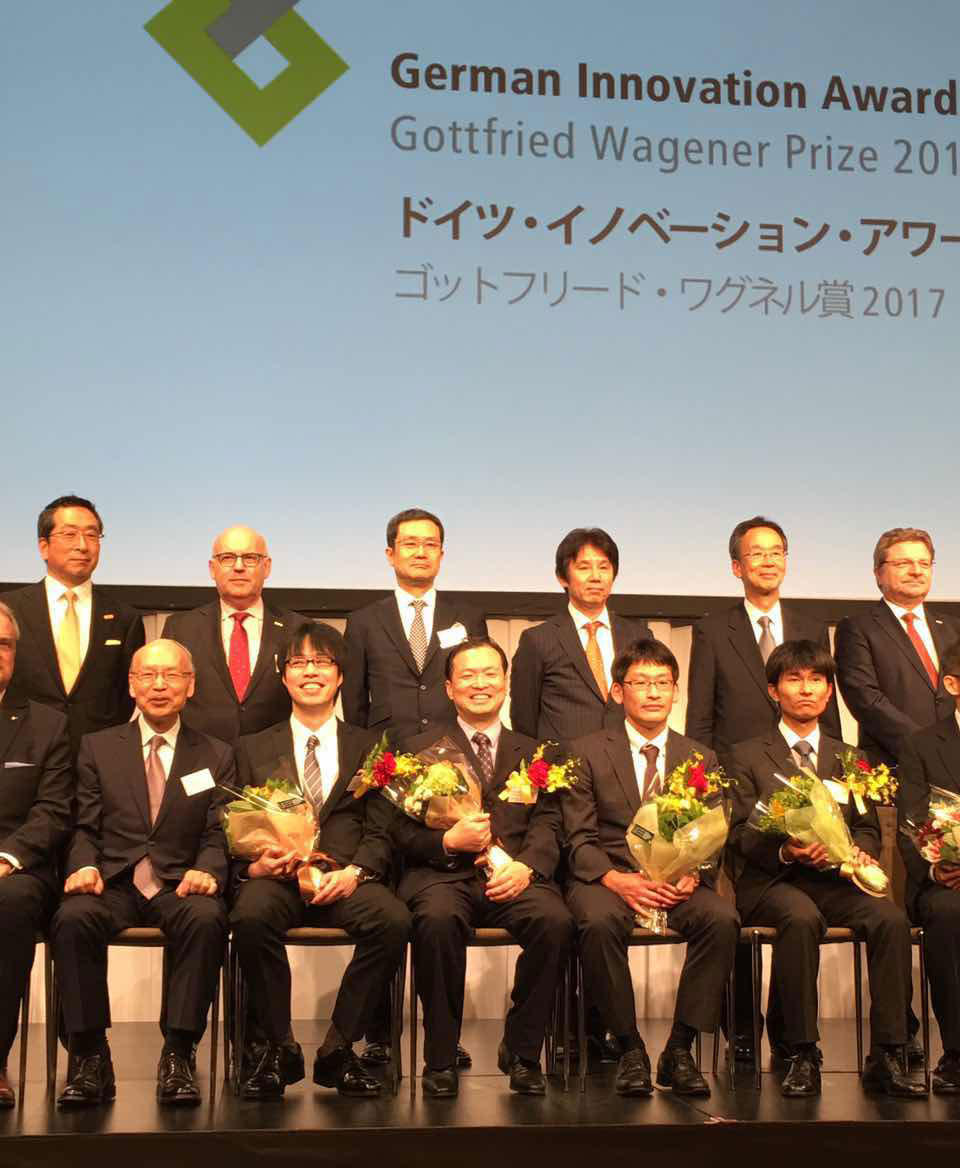 June 20,2017