Awards
Ms.LIU,Yalin, Human Life Design Area,receives three awards in Matching HUB Business Idea & Plan competition(M-BIP).
Ms.LIU Yalin,the first year master's student in Miyata lab. of Human Life Design Area, received The Best Award and Telecom Service Association Award and The Audience Award in Matching HUB Business Idea & Plan competition(M-BIP).
"Matching HUB Kanazawa", an industry-academia-government-finance collaboration event in Hokuriku, is held mainly by Industrial Collaboration Promotion Center, JAIST. This event is aimed at revitalizing and fostering human resources in Hokuriku and discovering and supporting people who start new businesses. "Matching HUB Business Idea & Plan Competition (M-BIP)" is a business idea and plan contest for students. The contest is aimed at using students' idea and research achievement for business. "M-BIP" is a part of "Matching HUB Kanazawa" event.
"The Best Award" is the recognition of the best proposal which is reviewed by the public presentation through document screening. "Telecom Service Association Award" is a reward of a proposal befitting a recommendation to Hokuriku Innovation Trial 2017 which is held by the association. "The Audience Award" is selected by the votes of visitors.
My proposal was selected as those awards among 16 proposals through document screening.
■Date Awarded
November 1,2017
■Title
Global development of nursing care recreation originated in Japan
■Abstract
My proposal is to introduce the Japanese nursing care recreation, which is a super aging society and an advanced country of nursing care to the world.
A meeting named "The committee for Asia Health and Human Well-Being Initiative" was organized at the beginning of this year. From that moment the exporting of Japan's nursing care to Asia has been increasing. On the other hand, in the field of nursing care, people focus to assist the lives of the elderlies, and not much attention is paid to nursing care recreation which aims to give what makes one's life worth living to elderlies.
However, nursing care recreation is progressing day by day. One such example is "A Life Review Method using Sugoroku with Miniature Models" which provide enjoyment to elderlies and reduce burden on staffs using ICT. As mentioned above, although the quality of Japanese nursing care recreation is high, however a lot of content is still oriented towards Japan. Therefore, many of these cannot be used in foreign countries for reasons such as language and culture background.
With these situations as a backdrop, I have planned a business that localizes and introduces Japanese nursing care recreation to other countries.
■Comment
It is the first time for me to participate in a contest after enrollment in JAIST. Being a foreign student, I am very happy to have received three awards including the Best Award for this proposal, and I have strongly felt the globalization of Japanese society. The awards are very encouraging for me, because I would like to conduct research on nursing care field as a master's thesis and be an entrepreneur after graduate from JAIST.
Finally, I am deeply grateful to Prof. Miyata who supervises me and boosts students' independent activities, and Miyata Lab.'s Assistant Prof. Ura who gave me many instructive comments for my idea.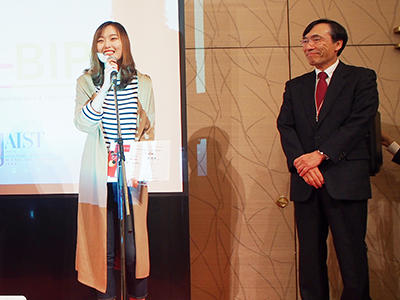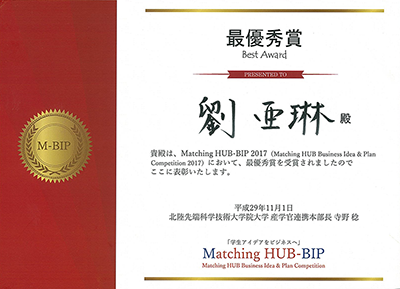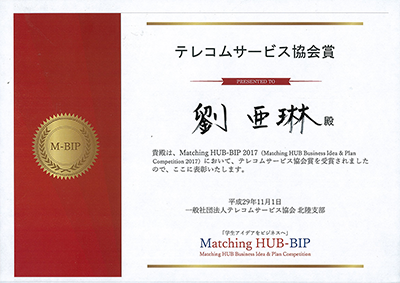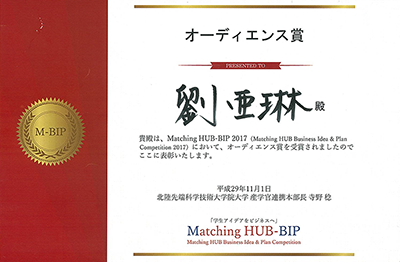 November 20, 2017