Awards
Mr. Du,Bo , Human Life Design Area, received Best Student Paper Award in The First International Conference on Creativity and Innovation.(ICCI2018)
Mr. Du,Bo , (the first year doctoral student in Nagai lab. of Human Life Design Area) received Best Student Paper Award in The First International Conference on Creativity and Innovation.(ICCI2018)
■Date Awarded
September 12, 2018
■Title
Fashion Creative Practice Exploration : Multi-dimensional performance from painting to creative design
■Abstract
This paper presents a creative design model using the "Items-Inheritance-Activation," creativity method, which combines the theory and practice of interactive design experience mode and discussed the problem of understanding tradition and interactive creativity.
■Comment
I am very honor to participate in the International Conference on Creativity and Innovation (ICCI) 2018 in Osaka. The presentation and publication of the conference papers condensed everyone's contribution and vision in the field of creativity. I am so happy to learn and communicate with experts who have achieved results in their respective fields, and their guidance and suggestions will accompany with my academic growth. Youth will keep energy running, learning and practicing in academic road.
Thanks JAIST, thank you my supervisor, and thanks my classmates for studying together!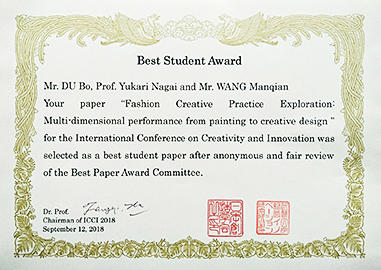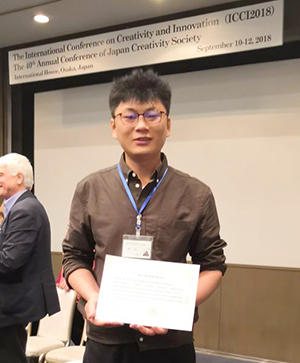 September 19, 2018