Awards
Ms. SAARI received Best Poster Award in Novel Trends in Rheology VIII (NTR VIII)
Ms. SAARI,Riza Asma A Binti (1st year doctoral student in Yamaguchi Lab of Materials Chemistry Area) received Best Paper Award in Novel Trends in Rheology VIII (NTR VIII).

The meeting captures recent development in areas of experimental and theoretical rheology.
The conference was hosted by the Tomas Bata University in Zlín, Zlín, Czech Republic, from July 30 to 31,2019

■Date Awarded
July 31, 2019

■Title
Effect of Metal Salt Incorporation on the Structure and Properties for Poly(Vinyl Alcohol)

■Authors
Riza Asma'a Binti Saari, Ryosuke Tsuyuguchi, Masayuki Yamaguchi

■Abstract
Structure and rheological properties for aqueous solution of poly(vinyl alcohol) PVA containing a metal salt were studied. It was found that the specific salt reduces the hydrogen bonding between PVA chains and thus decreases the viscosity. This property can be applicable to obtain a high-performance fiber having a high degree of molecular orientation by wet-spinning process.

■Comment
The conference was a "life changing experience" and it is such a great honor for me to receive this award. Special thanks to Prof. Masayuki Yamaguchi for the continuous support and guidance. I would also like to thank all my lab. members and family for always being there for me. I hope I can do much better in the future.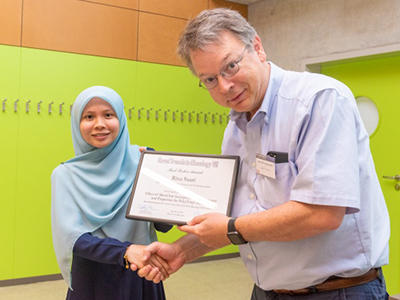 6,August 2019