Awards
Dr.WANG, Ms.FANG and Vice President NAGAI received Emerald Literati Awards for Excellence 2019 Highly Commended Award
Dr. Wang Weizhen (Completed doctoral course from Nagai Lab.of Human Life Design Area in March 2019), Fang Yuan (3rd year doctoral student in Lim Lab. of Security and Network System Area) and Vice President Yukari Nagai received Emerald Literati Awards for Excellence 2019 Highly Commended Award in Emerald Publishing.
Emerald is a global publisher with more than 50 years history and publishing over 300 journals.
The backbone of the awards, this rewards the most impressive pieces of work published throughout the previous year.
■Date Awarded
September 25, 2019
■Title
Interactive Technology Embedded in Fashion Emotional Design: Case Study on Interactive Clothing for Couples
■Authors
Weizhen Wang, Yukari Nagai, Yuan Fang, Masami Maekawa
■Abstract
The purpose of this paper is to bridge the gap between human emotions and wearable technologies for interactive fashion innovation. To consider the reasons why smart clothing should satisfy the internet of things (IoT) technical functions and human emotional expression simultaneously, to investigate the manner in which artistic design perspectives and engineering methods combined effectively, to explore the R&D elements of future smart clothing based on the IoT technology.
This study builds the research and development theoretical model of interactive clothing that can be integrated into daily smart clothing life design, and analyze the methods and means of blending IoT smart information-sensing technology with emotional design. By means of the experimental demonstration of human-centered interactive clothing design, the authors provide smart clothing 3.0 evolutionary roadmap and propose a new concept of internet of clothes for further research reference.
■Comment
I'm greatly honored to receive such a splendid award unexpectedly.
Firstly, I don't think I could get this achievement without the enthusiastic support from my supervisor Professor Nagai. I would like to thank my Japanese mom, Nagai sensei, for her devoted help during my research and life in JAIST. As a university teacher, I have learned from Professor Nagai how to be an excellent supervisor and how to do scientific research. I also want to thank all the JAIST teachers for their earnest guidance.
This paper is an interdisciplinary study of design engineering, human factor engineering and artificial intelligence, which conforms to JAIST's concept of interdisciplinary personnel training and education. It is also my personal future research direction on the integration of smart clothing design and engineering.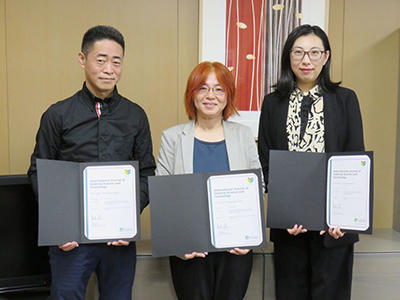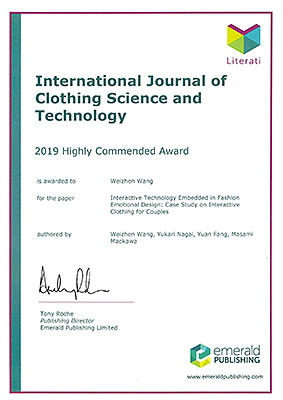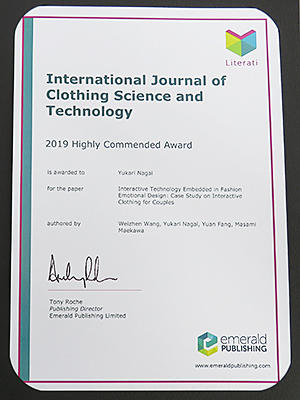 October 2, 2019