Awards
Ms. ZHAO received Best Presenter Award in Annual meeting of SPSJ Hokuriku branch 2019
Ms. ZHAO, Dandan (3rd year doctoral student in Matsumura lab of Materials Chemistry Area) received Best Presenter Award in Annual meeting of The Society of Polymers Science,Japan(SPSJ) Hokuriku branch 2019.
Annual meeting of SPSJ Hokuriku branch 2019 was held in Kanazawa, Japan,from November 30 to December1 2019.

■Date Awarded
November 30, 2019

■Title
Dual Thermo- and pH-responsive Behavior of Double Zwitterionic Graft Copolymers for Suppression of Protein Aggregation and Protein Release

■Author
Dandan Zhao, Robin Rajan, Kazuaki Matsumura

■Abstract
Dual-thermo- and pH-responsive graft copolymers were successfully synthesized by RAFT polymerization. These of two polymers not only exhibit a dual-temperature responsive property, but also exhibit a pH-responsive property. Interestingly, a very high protein protection efficiency was observed due to the zwitterionic polymer branch. The presence of the polyampholyte structure enables these polymers to act as protein release agents, while simultaneously protecting the proteins from severe stress.

■Comment
It was a great honor to receive the best research award at the conference. For this achievement, I am extremely grateful to Associate Prof. Dr. Kazuaki Matsumura and Assistant Prof. Dr. Robin Rajan for their support and guidance. Without their help, I could not finish this work. I would also like to thanks Mrs. Keiko Kawamoto and Mr. Harit Pitakjakpipop for their help in cytotoxicity assay and the taken of photographs. And last, by not least, I would like to thank all my lab members and friends for always trusting me and help me.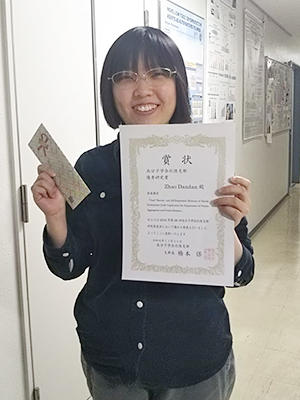 December 18,2019