News
FY 2019 Entrance Ceremony
2019 Entrance ceremony took place on Thursday April 4 at Cultural Hall of Tsurugi Cultural Complex (Crain).
302 new students in the Master's program(Division of Advanced Science and Technology) and 11 new students in the Master's program (Division of Transdisciplinary Sciences) and 55 new students in the Doctoral program(Division of Advanced Science and Technology), a total of 368 new students, pledged to "work on their studies sincerely and fulfill their student duties as a member of JAIST", signed by JAIST custom, and the delegate handed their signatures to President.
President Asano read an address saying that "To obtain wide variety of experiences, it is essential to keep challenging new things without fear of changes. I wish that your life at JAIST becomes fruitful and that you will actively initiate changes for your bright future. "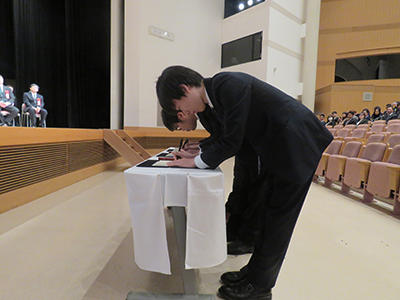 Signing by New Student Representatives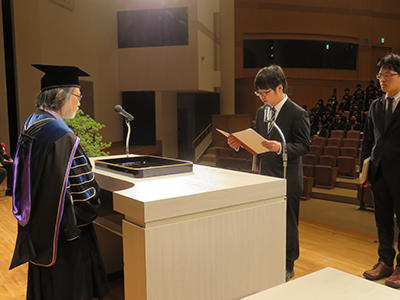 Oath by New Student Representative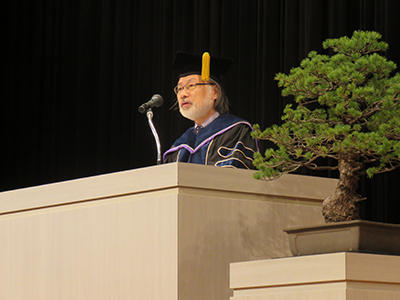 Congratulatory Address by President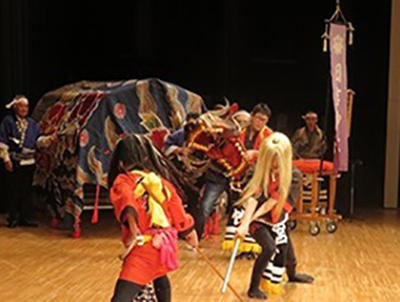 Lion Dance
President address
Dear New students
Congratulations on your joining JAIST today.
You might have felt our entrance ceremony is very different. Our entrance ceremony is simple because we believe graduation is more important than entrance. This was a policy our first president introduced when JAIST was established 30 years ago.
Also, JAIST is very different in many ways compared with other universities. First, while many universities are located in big cities, JAIST is located in Nomi city with the population of fifty thousand people. Today, many cities have been suffering from a population decrease, but Nomi city has experienced a gradual population increase. I believe that is because of the city Mayer, Mr. Ide's efforts in providing wonderful living environment to young generation to raise their children comfortably. Having many international students is one of the important features of JAIST. Almost a half of our students are from other countries. When receiving a great number of international students in a city, how to provide education to their children can be one of the important issues. Though other cities may not be able to handle this issue well, Nomi city has provided appropriate supports to welcome them. The other day, a principal of an elementary school in Nomi came to visit me for a greeting. I do not find any school principal do such thing other than in this city. While big cities in the world look alike, Nomi city can entertain our international students with well-preserved traditional culture. In summer, there is a dancing festival called "Jonkara Festival" and I also enjoy dancing with our students. Right after the orientation for new students, local people will take us to a mountain for edible wild plant picking. They also serve dishes prepared from these plants.
As all the new students know, JAIST does not have written exams. We only have a 30-minutes interview. Though I believe the interview is enough, many other Japanese universities still require written exams. Then why don't we have written exams? That is because JAIST wants to provide a full support to students who are wishing to change their major. It is quite natural that students from a different field of study do not have enough knowledge in a new field. We use the interview because we value students' motivation rather than the amount of knowledge they have. We do not consider motivation just a spiritual strength as shown in the statement like "I will do my best." We give more value to whether students are capable of explaining clearly what efforts they are going to make to obtain necessary skills and knowledge.
"Intellectual Toughness," this is what I have valued most since I took my position 5 years ago. "Intellectual Toughness" means a spirit to keep challenging yourself to seek wide varieties of experiences and knowledge. To obtain wide variety of experiences, it is essential to keep challenging new things without fear of changes. Charles Darwin, in his Evolutionary Theory, said, "It is not the strongest of the species that survives, nor the most intelligent, but the one most responsive to change." I believe intellectually tough students can set their own goals and materialize them.
Lastly, I ask Vice President Kawanishi to organize JAIST Strolling Club and plan the strolling activity every Thursday when we have a fine weather. The participants get together and stroll around the campus for 30 minutes during the lunch time. I also participate in it whenever I am available. I believe no other schools offer an opportunity for students to talk with the president directly. I hope you will also come to join this activity once a week to make new friends.
I would like to conclude my congratulatory speech with my strong wish that your life at JAIST becomes fruitful and that you will actively initiate changes for your bright future. Thank you.
April 4, 2019