News
Degree Conferment Ceremony of September FY2019
On Tuesday, September 24th, 2019 at 10:00am, Degree Conferment Ceremony of September FY2019 took place at School of Materials Science Lecture Hall. A total of 90 students: 63 students in the Master's program and 27 students in Doctoral program received their diplomas.
Each student received the diploma from President Asano, and shook hands with the dean and supervisor.
President Asano encouraged the graduates saying "The world is longing for intellectual and practical global leaders with advanced knowledge of science and technology. I believe the key to a successful life is to be courageous enough to initiate changes and to maintain Intellectual Toughness that you acquired at JAIST. I sincerely hope that each one of you become a great leader who can contribute to bringing unprecedented development to the human society."
Number of student
Master's program
Doctoral program
School of Knowledge Science
3
4
School of Information Science
2
2
School of Materials Science
0
0
Graduate School of Advanced
Science and Technology
School of Knowledge Science
16
7
School of Information Science
31
6
School of Materials Science
11
8
total
63
27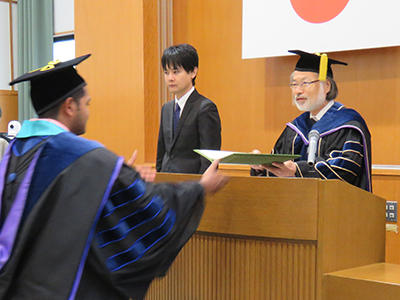 Student receives a diploma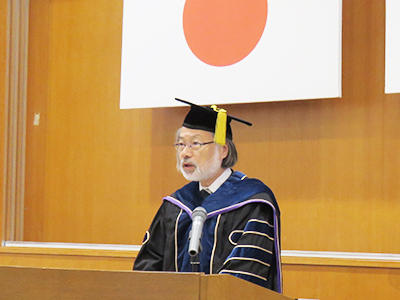 Congratulatory address
September 24, 2019