News
Degree Conferment Ceremony of March FY2022
March FY 2022 Degree Conferment Ceremony took place at Tsurugi Cultural Complex (Crane), Cultural Hall on March 24(Fri.), 2023. A total of 278 students: 234 students in the Master's program and 44 students in Doctoral program received their diplomas.
Each student received the diploma from President Terano, and address of thanks by the student representative was given.
Number of student
Master's program
Doctoral program
Graduate School of Advanced
Science and Technology
School of Knowledge Science
75
16
School of Information Science
92
13
School of Materials Science
55
14
Division of Transdisciplinary Sciences
12
1
total
234
44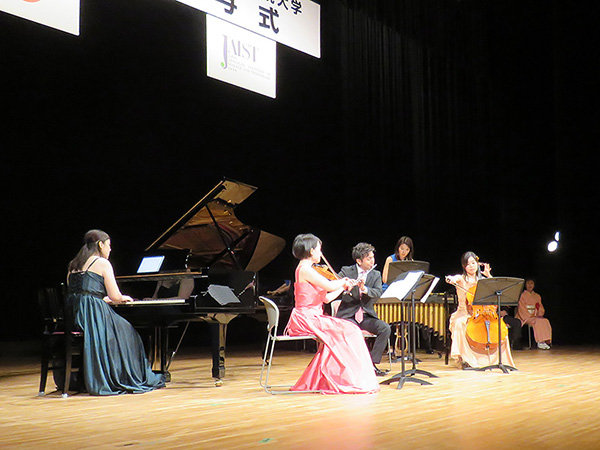 Ensemble performance
before conferment
of degree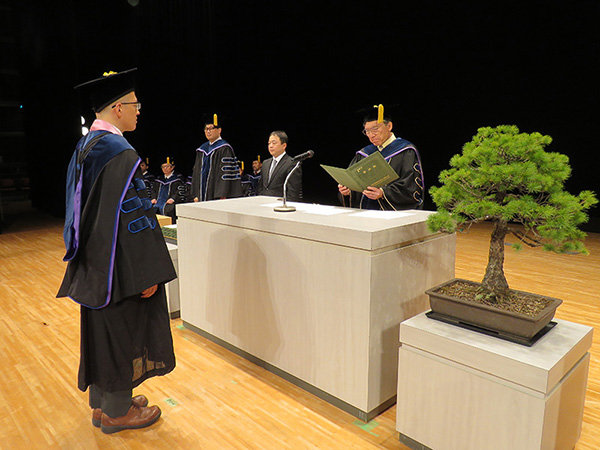 Student receives
a diploma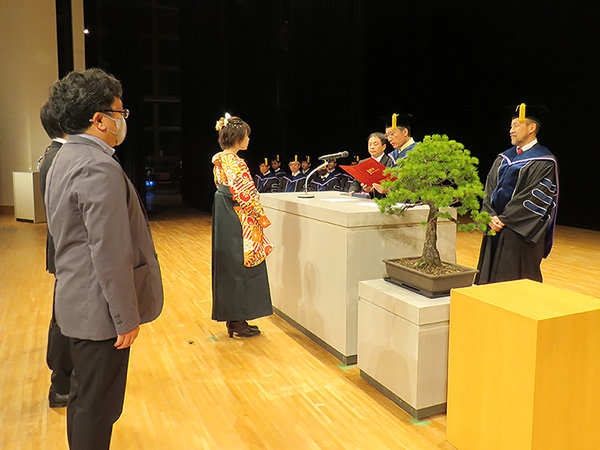 Awarding of
outstanding students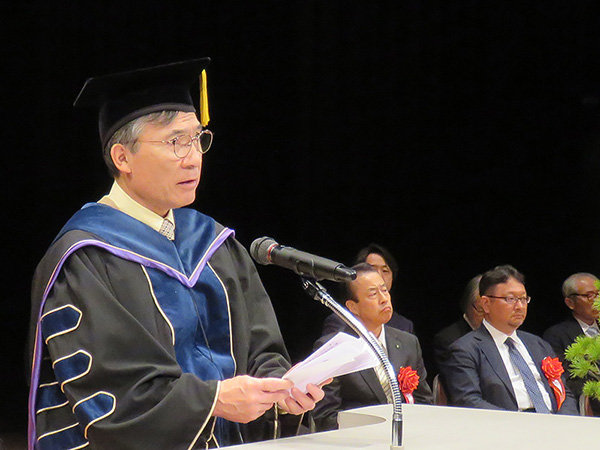 Congratulatory address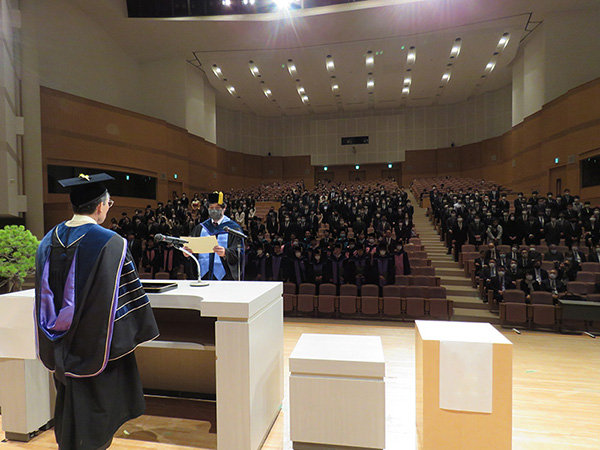 Address of thanks by the
student representative
Commencement Speech of the President
Dear Graduates

Congratulations on your completion of the doctoral degree program or the master's degree program at JAIST. I would like to extend my congratulations to your parents and other family members as well as your professors.

I respect all of you as you have completed your courses under the difficult situation caused by the spread of novel coronavirus infection.

JAIST has created world-leading research achievements in the broad area of advanced science and technology, and fostered excellent graduates like you.

"The Outline of Concept of Japan Advanced Institute of Science and Technology" made for the establishment of JAIST set the purposes to fostering and reeducating advanced researchers and engineers as well as promoting higher basic research in the field of advanced science and technology. This spirit is inherited in the Future Vision of JAIST enacted in January last year. JAIST aims to become a world's top research university and fosters students who will contribute to the peace and prosperity of the world.

Do you think what you have studied and acquired at JAIST?
I believe you have studied and acquired more than what you can remind now.

What matters most for you from now on is what you can do in the society. Please create excellent achievements by making the best use of knowledge and abilities as well as human relationship you have acquired at JAIST.Students who will enter our doctoral degree program will have deeper and wider experiences at JAIST.

Today, the world is facing a serious problem of war in addition to the spread of the novel coronavirus infection. I think building the good and intimate human relationship is the most important thing to establish a peaceful world. In JAIST, you had a wonderful time with a variety of students and professors coming from many countries. It must be effective to build a global human relationship.

Together with many former graduates of JAIST, all of you attending this ceremony will surely contribute to establish the peaceful world and contribute to develop it.

I strongly hope all of you make your best efforts for the future of the world as well as for the future of yourself.
In closing my speech, on behalf of JAIST faculty and staff members, I would like to congratulate all of you, again.

Congratulations and good luck!
March 24, 2023