News
FY 2023 Entrance Ceremony
Entrance Ceremony of FY2023 took place at Tsurugi Cultural Complex (Crane), Cultural Hall on Tuesday, April 4th (Tue.). A total of 299 new students: 241 new students in Master's program, 58 new students in Doctoral program pledged to work on their studies sincerely and fulfill their student duty as a member of JAIST, and the delegates handed their signatures to President.
President Terano read an address saying that " I strongly recommend you acquire broad knowledge beyond your own field. It will surely give a great merit not only for your research at JAIST but also for your work after graduation."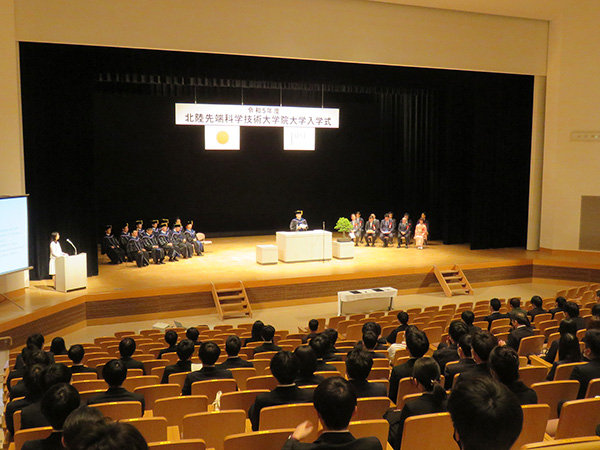 The Ceremony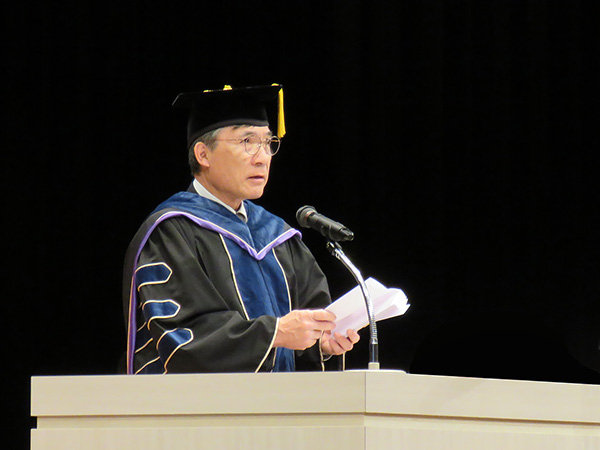 Congratulatory Address by President
Signing by New Student Representatives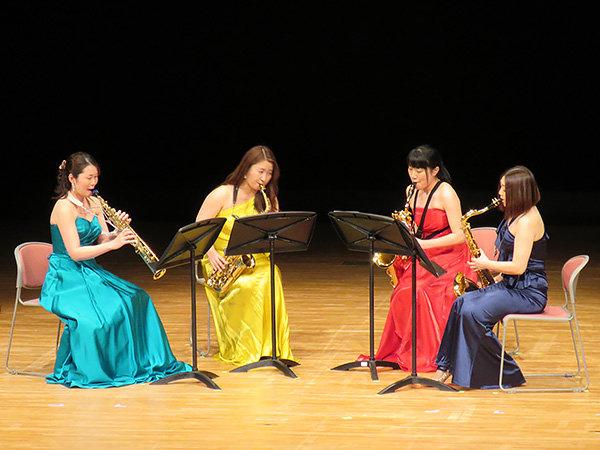 Saxophone performance before ceremony
President address
Dear new students!
Representing all the faculty and staff members of JAIST, I would like to congratulate all of you for joining JAIST. It is my great pleasure to welcome excellent students like you to JAIST.
Since its foundation, JAIST has conducted world top-level research in a broad area of advanced science and technology, and produced more than 8000 excellent graduates.
For further development of JAIST, we have established JAIST Future Vision.
I introduce the main part of the "JAIST Future Vision".
Japan Advanced Institute of Science and Technology (JAIST) aims to become a world's top research university for innovation creation. While advancing the sophistication and excellence of its original research, JAIST creates the future of science and technology and contributes to sustainable development through new co-creation based on global-scale collaborations with domestic and overseas universities, research institutes and industry.
Taking advantage of the integrated graduate school, JAIST welcomes motivated students widely from all over the world and fosters them to become global leaders who hold solid expertise in advanced science and technology with "Resilience and Co-creativity " to lead the new era.
As indicated in this vision, the promotion of world leading research and the education through such research are our most important missions.
To make excellent research achievements, it is important and necessary for students to equip themselves with broad knowledge and methodologies of problem solving. You can select courses flexibly from all the courses offered at JAIST. I strongly recommend you acquire broad knowledge by taking courses from a variety of fields beyond your own field. It will surely give a great merit not only for your research at JAIST but also for your profession after graduation.
More than 40% of JAIST students come from more than 20 countries. I expect all of you to obtain a global spirit and a wonderful human relationship by taking advantage of this special environment.
Today, the world is facing quite serious problems of war in addition to the novel coronavirus infection. To overcome these problems and to never let the same kind of problems again, the wonderful human relationship as well as the great progress of advanced science and technology is indispensable.
Please contribute to build the peaceful world using the knowledge and the human relationship you will acquire at JAIST.
In closing my speech, I strongly hope all of you to grow up into epoch-making global human resources.
Please do your best at JAIST.
April 4, 2023