News
Research Project by Assistant Professor JAVAID, Next-generation Digital Infrastructure Research Area, has been selected for a research grant from TEPCO Memorial Foundation
Research Project by Assistant Professor JAVAID, Saher, Next-generation Digital Infrastructure Research Area, has been selected for a research grant (basic research) from TEPCO Memorial Foundation.

TEPCO Memorial Foundation, with the aim of contributing to the development of industry and the improvement of people's lives, provides grants for research that will broadly contribute to the future development of the electricity and energy fields. The research grant (basic research) aims to offer research opportunities for outstanding young academic researchers to achieve results in their basic research and to play an active role in the world.

References:TEPCO Memorial Foundation

■Research Period
April 1, 2023 - March 31, 2026

■Title
Research on Robust and Safe Power Flow Control Based on Power Flow Coloring for the Utilization of Distributed Power Sources and Energy Storage Systems

■Abstract
The greening of society and the need for the reduction of fossil fuel consumption and subsequent gas emissions stand contrary to the increasingly power-hungry demands from the world's industrial, and household consumers. A recently proposed solution is the adoption of distributed Renewable Energy Sources (RESs) for greener and more efficient power systems. Our challenge is to approach this worldwide problem in terms of safe, robust, and real-time solutions. In this research, system conditions are proposed which provide mathematical support for a power flow system to continue safe operation against power fluctuations.

■Comment
I would like to express my sincere gratitude to the TEPCO foundation for its trust and for granting my research, which represents strong and encouraging support for my work. As this ongoing research relies on a close collaboration, I deeply thank my collaborators in JAIST, Prof. Yasuo Tan and Prof. Mineo Kaneko.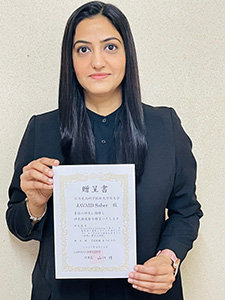 May 16,2023