Awards
Ms. MAWALIM received Best Paper Award in 11th International Conference on Social Computing and Social Media (SCSM 2019)
Ms. MAWALIM, Candy Olivia (2nd year master's student in Unoki Lab. of Human Life Design Area) received Best Paper Award in the 11th International Conference on Social Computing and Social Media which is an affiliated conference of the 21st International Conference on Human-Computer Interaction (HCI International 2019)
SCSM 2019 is an affiliated conference of the HCI International Conference. The conference provides an established international forum for the exchange and dissemination of scientific information related to social computing and social media. HCI International 2019 was held in Orlando, Florida, USA, 26-31 July 2019.
This is the outcome of minor research project guided by Associate Professor Shogo Okada, Intelligent Robotics Area.
■Date Awarded
July 28, 2019
■Title
Multimodal BigFive Personality Trait Analysis using Communication Skill Indices and Multiple Discussion Types Dataset
■Authors
Candy Olivia Mawalim, Shogo Okada, Yukiko I. Nakano and Masashi Unoki
■Abstract
This paper focuses on multimodal analysis in multiple discussion types dataset for estimating BigFive personality traits. The study was conducted to achieve two goals: First, clarifying the effectiveness of multimodal features and communication skill indices to predict the BigFive personality traits. Second, identifying the relationship among multimodal features, discussion type, and the BigFive personality traits.
The experimental results showed that communication skill indices are essential in estimating the agreeableness trait. In addition, the scope and freedom of conversation affected the performance of personality traits estimator. The freer a discussion is, the better personality traits estimator can be obtained.
■Comment
It was a great honor to receive this best paper award in HCI International 2019. Foremost, I would like to appreciate the great effort, guidance, and support from Prof. Shogo Okada for letting me conduct my minor research under his supervision. My sincere gratitude also goes to Prof. Yukiko Nakano and Prof. Masashi Unoki for their supports and insightful comments. Although it was quite different from my field of study, I enjoyed every moment in doing my minor research as I could have a broader knowledge. Last but not least, I would like to thank my family for always encouraging and praying for me. I hope this award can motivate me to do better in the future.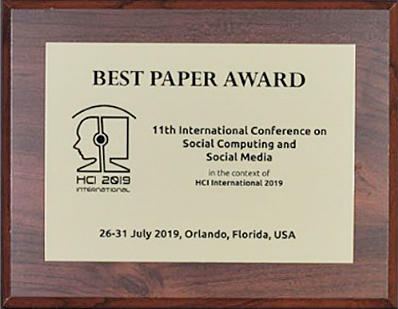 August 13, 2019