Awards
Assistant Professor JAVED, Knowledge Management Area, received Young Service Research Award in IRSSM10
Assistant Professor JAVED, Amna, Knowledge Management Area, received Young Service Research Award in 10th International Research Symposium in Service Management (IRSSM10).
The International Research Symposium in Service Management was initiated in 2010 as part of the Service Education, Research and Innovation (SERI) Initiative. It is an annual Symposium, hosted successively by different universities around the world. The Symposium's aim is to promote research and publications among service researchers by providing a unique platform through which they are able to network with researchers from both their own country and researchers internationally. The symposium presented awards for young service researchers selected by the committee. This is a prestigious research award to motivate and support emerging researchers (for example; lecturer, assistant professor). It also provides an opportunity to network with service researchers from other countries. IRSSM10 was held at Dubai, United Arab Emirates. 6-9 October 2019.
■Date Awarded
October 8, 2019
■Title
Value Extension for Innovative Service Design: Contribution from Service Dominant Logic
■Authors
Amna Javed, Youji Kohda
■Abstract
In the past, design methods were mainly considered for the products, whereas the design of service did not get the same attention. However, today in the experience economy, the overall experience (product + service) of the customer is the matter. In recent, the knowledge-intensive nature of service has encouraged the framework of service-dominant logic to emphasize service and its phenomenon as the basis of social and economic exchange. The focus of this research is to elaborate the emerging design practices and values concerned with the design of service by using a case of Islamic banking and finance (IBF) in two countries: Pakistan, and UAE. The careful analysis shows that the multiplication of product and interaction design generates possibilities of design principles towards innovative service design. This study has a practical significance for the evolving service economies where the customer is now a top priority as a part of the organizational network.
■Comments
It is a great honor to receive the Young Service Researcher Award from the 10th International Research Symposium in Service Management (IRSSM10). This award is a great motivation for me to boost my academic career.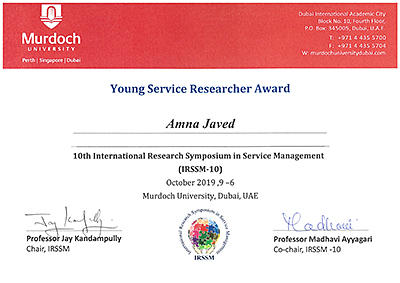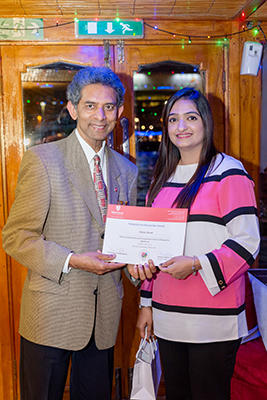 October 25, 2019