Cooperation with the Local Municipality
Concluding Partnership Agreement with Local Municipality
JAIST has concluded a Partnership Agreement with Nomi City, Komatsu City, Kaga City, Nonoichi City, and the Hokkoku Bank, Ltd, in order to energize the local community and solve problems by using our human/intellectual resources, having a partnership and cooperating with the local municipality, and by aiming at contributing to the constitution and development of a vital, vibrant local community.
Children Master Week (Nomi City)
In Nomi City, industry, universities and government collaborate and hold the Children Master week, in which they hold an exhibition of scientific works submitted by local elementary school students and junior high school students and conduct scientific experiments. The purpose of this event is to raise students' interest in study and nurture their creativity and human touch by offering the opportunity to exhibit their accomplishments in a wide variety of research and studies such as observation, experiment, exploration, manual training, painting and so on. As one of the co-hosting organizations, JAIST is a member of the planning committee and holds the event to raise students' interest in science.
"Waku Work Experience" Learning (Nomi City)
In Nomi City, schools, homes, and society cooperate as one and conduct the "Waku Work Experience", which is an opportunity for junior high school students to develop a workplace experience. It is an approach to nurture students' attitude and ability to be proactive in developing their full potential in companies and society by leaning to their future.
JAIST agrees with this idea, and accepts a few students from Tatsunokuchi Junior High School to develop their workplace experience every year.
International Understanding Workshop (Nomi City)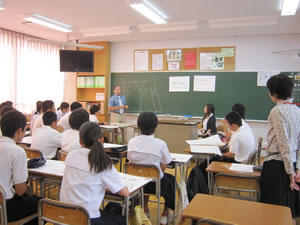 Devoting "time for comprehensive studies" in Nomi City of Tatsunokuchi Junior High School, Nomi City invites foreign lecturers and enriches junior high school students understanding of foreign countries through classes on foreign culture and interaction with foreign lecturers. JAIST foreign exchange students transmit their culture to junior high school students as lecturers every year.
Collaboration with Nomi City Library
Since 2013 JAIST has been participating in the Nomi City Library Committee and discussing the collaboration between the Nomi City Library and the JAIST Library.
Collaboration with Science Hills Komatsu (Komatsu City)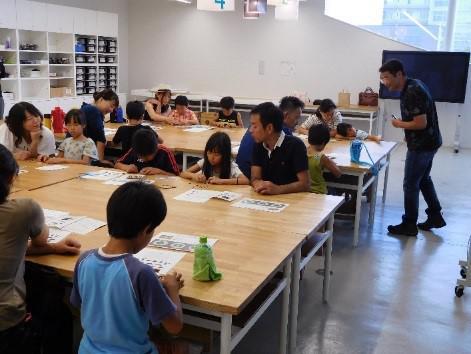 Taking the opportunity of the inauguration of "Science Hills Komatsu", which Komatsu City established in front of Komatsu station as a facility to experience manufacturing and science technology, JAIST has been working on projects in cooperation with Komatsu City in order to resolve the adolescent shift away from science. As one of the partners of this project, JAIST has been offering science workshops at Science Hills Komatsu for adolescents and local residents. Also, JAIST has established a booth to introduce our research at the facility and disseminate the information widely to local residents.
Komatsu Global Seminar (Komatsu City)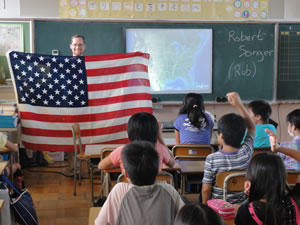 Komatsu city invites foreigners living in the city or in outlying cities to 5th grade classes, and conducts activities to enrich children's international understanding and understanding of foreign cultures through the interaction with and learning of foreign cultures, languages, sets of values, etc. JAIST Foreign exchange students take some role of lecturers and have been contributing to the enhancement of international understanding of elementary school students in Komatsu city.