Center for Single Nanoscale Innovative Devices (Excellent Core)*
This new center, founded in October 2015, consists of three groups exploring single nano-meter-scale science and technology by combining their individual strong expertise organically:
(1) Masuda Lab (Functional new materials and ultra-fine printing)
(2) Takamura Lab (Technologies for highly functional bio-sensing systems)
(3) Mizuta Lab (Single-molecular-level extreme sensing for environment & health and monolayer-based ultra-low-power consumption devices).
Three groups collaborate very closely to develop novel material and fabrication technologies for single nano-meter-scale innovative devices and sensors and finally integrate them heterogeneously to build highly-functional systems. The final goal is to apply those revolutionary nanotechnologies to challenging applications and solve vital issues in the modern society in the area of health, environment , energy and ICT .
These include a production method which enables to fabricate state-of-the-art semiconductor devices without betting load on environment, an extremely-sensitive and functional environmental and medical sensors which can selectively detect harmful molecules in the environment or from human bodies to detect and prevent a healthy disorder, and a new treatment technique of cancers assisted by molecular-level analyses.
Actual activities are follows.
Synthesis and research of world's first functional material such as liquid Si, SiC, Ge, and Al.
Direct formation of nanometer-scale devices by liquid processes.
Ultra-fine patterning of graphene, silicon, and oxide materials by the modern GFIS (gas field ion source system) apparatus.
Basic study for developing an EB-FIB hybrid processing apparatus, which hybridizes an electron beam (EB) and a helium ion one, for the use of a next generation ultra-fine technology.
Extremely sensitive and functional environmental and health sensors based on graphene NEMS (Nano-Electro-Mechanical-System) technology.
Study of novel thermal control devices based on single-nanometer-scale heat phonon engineering.
Development of high functional single cell analysis array device for spatial single molecular analysis in each cell on tissue planes and neuro-networks.
Organizing international workshop related to the activities of the Center for Single Nanoscale Innovative Devices Excellent Core.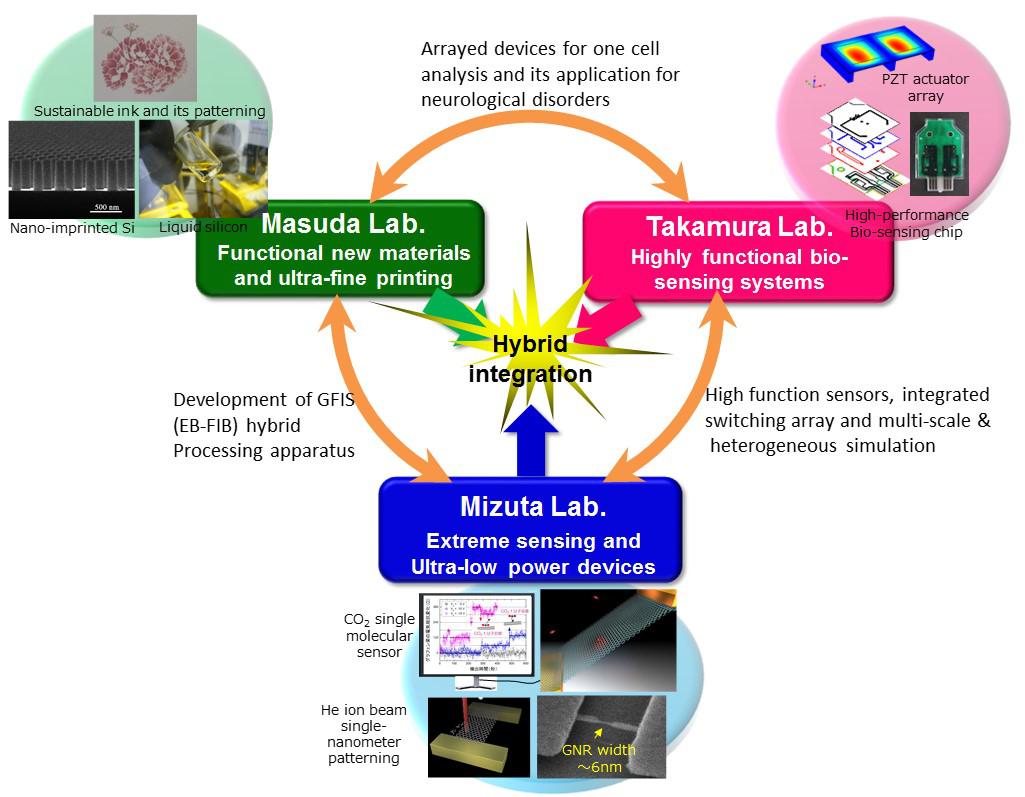 *Excellent core
"Excellent core" is a facility to develop its own research activity as an international research base with leading edge research equipment and environment for leading researchers from all over the world to conduct high-level research in specific research areas.