Health Care Center
Health Care Center  TEL 0761-51-1036
General health care services including health examinations, first aid and health consultation are provided.
Open
Day
Clinic Hour
Doctor
Mon.
9:30-12:00, 13:30-16:30
Physician
(Professor)
Tue.
9:30-12:00, 13:30-16:30
Wed.
9:30-12:00, 13:30-16:30
Thu.
9:30-12:00, 13:30-16:30
Fri.
9:30-12:00, 13:30-16:30
※Clinic Hours are subject to change on short notice.
Counseling Service
  E-mail: soudan@jaist.ac.jp TEL 0761-51-1039, 1036
Counseling Service is provided by professional counselors. If there is anything that troubles you, please feel free to try this service.
Counseling Hours
Day
Clinic Hour
Counselor
Mon.
9:30 -12:30, 13:30- 16:30
Clinical Psychologist
(Associate Professor)
&
Adjunct Counselor
Tue.
9:30 -12:30, 13:30- 16:30
Wed.
9:30 -12:30, 13:30- 16:30
Thu.
9:30 -12:30, 13:30- 16:30
Fri.
9:30 -12:30, 13:30- 16:30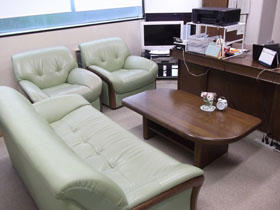 ※Reservation is required at the Health Care Center.
You may just visit the counselors in emergency.
Anything/Everything Advisement (Casual Style Counseling operated by students)
Please feel free to visit Anything/Everything ADVICE Room and make small talk with the members of this room. You can consult with senior students (doctoral students) when you have some difficulty regarding research work or seminar etc.
Day
Counseling Hour
Location
Mon.-Fri.
16:00~19:00 (Apr.-May.)
17:00~19:00 (Jun.-Mar.)
1F of Institute Hall"Anything/Everything ADVICE"Room
(near the entrance)
Regarding the Support System for Students with Disability
In compliance with "Act on Promotion of Prevention relating to Discrimination on the Ground of Disability", JAIST seek and do proactively what we can among the relevant departments, to balance the opportunity of education for students with disabilities and maintaining academic quality.
As a graduate university, wide range of laboratory equipment and chemicals are used in JAIST. Required levels for the researches are high compared to the ones of undergraduate schools.
When you need special consideration to complete your graduate study at JAIST, please contact the Student Affairs Department or the Healthcare Center via email.
Your private information regarding the request will be shared only between the Student Affairs Department and the Healthcare Center. Agreement with you on sharing information among other departments or persons shall be gained as needed.

Contact:
Health Care Center(hoken@jaist.ac.jp) Student Affairs Department (gakusei@jaist.ac.jp)