Facilities for Campus Life
Institute Hall
The Institute Hall includes a cafeteria and a coffee lounge.
■ Cafeteria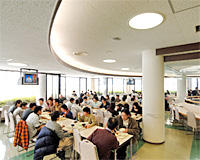 Cafeteria
A wide variety of dishes are available in a comfortable and relaxed atmosphere. You can see the seasonal changes of nature through the windows.

Please click here about Today's menu and Montyly menu plan.
【Open】
Monday-Friday 11:00AM-2:00PM / 5:00PM-7:00PM
※Closed on Saturday, Sunday and Holidays
■ Convenience Store: New Yamazaki Daily Store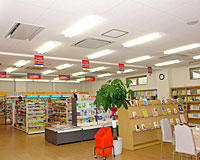 Convenience Store
【Open】
Monday-Friday 9:00AM-8:00PM
Saturday, Sunday, Holidays 10:00AM- 5:00PM
【Lines of business】
Groceries, stationery supplies, magazines, home-delivery service,
dry-cleaning agent, etc.