JAIST International Student News(2021)
We release the current statuses of international students in JAIST and the former international students of JAIST who are successfully working all over the world.
Dear international students who plan to enroll in JAIST
Could you imagine studying abroad in a charming city with a full scholarship? Here in JAIST, there are various financial support options offered for both tuition fees and living expenses.
I am a Thai student who received a Monbukagakusho: MEXT scholarship to pursue a master's and a doctoral degree at JAIST. The opportunity helped me to accomplish my goal of earning the doctoral degree, gaining advanced research experience, and enjoying life in Japan. I started my master's degree in 2016 and finished my PhD in autumn 2021 from the School of Material Science. Five years in Japan was a priceless journey for me. Hence, it gives me great pleasure to share my story in order to affirm that JAIST is one of the best options for international students pursuing not only academic success but also amazing life experiences.
In JAIST, we have three main pillars; School of Knowledge Science, School of Information Science, and School of Material Science. Knowledge science brings together learning areas in the humanities, social sciences, and natural sciences on the cutting edge of knowledge creation. Information science is interdisciplinary among engineering, computer science, and general science used to solve critical social problems through the information processing. Lastly, material science aims to solve human and social issues through studying and developing materials. We can join any classes that we want to learn from every school. This practice is referred to as cross-disciplinary learning. Moreover, JAIST also provides grants for students who wishes to join an international conference in other countries. This could be a great chance to broaden your base of knowledge worldwide.
Life in JAIST let us take full advantage of the four seasons in Japan with a number of activities such as bicycling in the summer, red leaf sightseeing in the autumn, skiing in the winter, and viewing blooming Sakura (Japanese cherry blossom) in the spring. All facility is provided from the student section. Furthermore, we can participate in social gatherings such as women gatherings, sports clubs, and Japanese classes, starting from the basics. You may relieve and refresh yourself at any time by doing anything that you prefer, and you can never feel lonely.
I could not believe that time flew so fast because I had such a good time in JAIST. Thanks to my dear professor and colleagues in the Kaneko laboratory, who were always incredibly supportive of me. I could not achieve my goal and enjoyed this much without them.
Please do not hesitate to choose JAIST as your next journey. Nothing needs to be concerned if you want to know more detail about JAIST because the staff are friendly to all international students and are eager to assist you with any requests you may have.
JAIST family is waiting for you. :)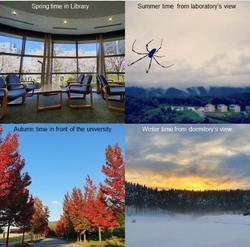 JAIST scenery in four seasons
Kulisara BUDPUD
Ph.D. in Material Science (2021)
List of articles on JAIST International Student News