JAIST International Student News(2016)
We release the current statuses of international students in JAIST and the former international students of JAIST who are successfully working all over the world.
Dear international students who plan to enroll in JAIST
HUANG, Tong
Hi there! I am HUANG Tong. I come from China. I started my JAIST life as a master's program student in 2011, proceeded to Ph.D program in 2013, and I completed the doctoral program in March, 2016. The 5 years at JAIST passed by fast and I shall never forget my student life. Please allow me to introduce my great experiences in JAIST to you. I hope this will be helpful for prospective enrollees.
First of all, JAIST has a beautiful natural environment. The reason I chose JAIST is that I like a place full of nature. I went out for a walk on campus to feel refreshed no matter how busy I was. You can enjoy wonderful scenery in each season around Ishikawa Campus. Cherry trees lining in hundreds of meters in Spring, fireflies and crisp starry sky in Summer, three-colored mountains with autumn leaves, fluttery snowfalls in Winter. This environment relaxes you. In daily life, I enjoyed the single room dormitory life. I think it is a great advantage to live near a lab and a school library for students. In addition, there is a shuttle bus service which is very convenient to go shopping and travelling.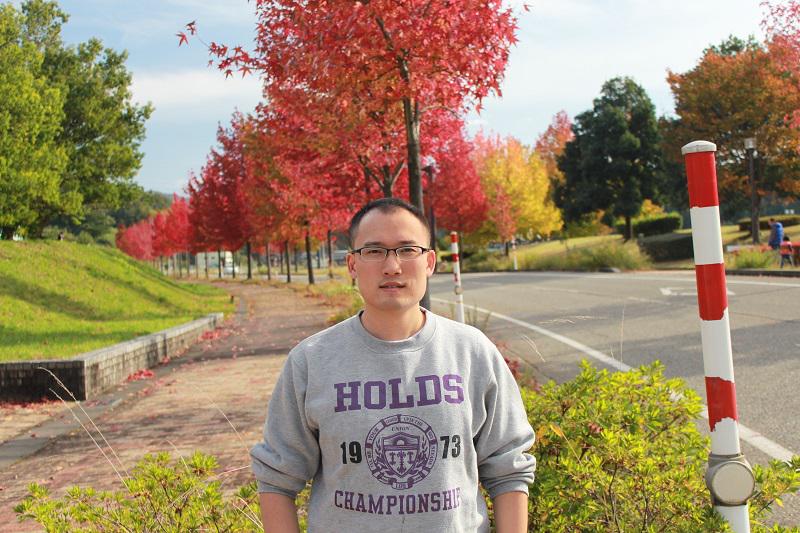 2012 Autumn Outside JAIST campus
Secondly, JAIST has a great research environment. You can use high-precision analytical equipment like a high-precision NMR device and a high-powered electron microscope freely after receiving training. Also, you may choose a research subject that you are interested in. I had been longing to study biodegradable material. Therefore, I was engaged in studying physical characteristics of biomass-based polylactic acid while I was at JAIST.
Thirdly, JAIST has an international atmosphere, even though it is a Japanese institute. Not only Japanese but also English is spoken on campus because there are international students from China, India, Thailand, France and so on. I improved my Japanese and English by having discussions in lab. In addition, JAIST provides many opportunities for students to attend conferences or do research in other countries. What is more, the cost of transportation and accommodation are paid by JAIST. I joined an overseas training and a conference almost every year. Especially, studying in America for a month and off-campus research in Canada for three months were very impressive. I worked hard on my research and learned a lot about different cultures. These are the most important experiences for me.
2013.10.2~10.5
Roma, Italy
International Conference on
Bio-Based and Biodegradable Polymers
(BIOPOL-2013)
2014.8.1~10.31
Canada
Off -Campus Research
In Front of Niagara Falls
Finally, JAIST has a career service center on campus, and they give the students a lot of information and advice on job hunting. They helped me in writing my resume and undergoing job interviews. Thanks to them, I have been working at Suzuki Motor Corporation.

I am happy that you are considering JAIST, and wish you good luck in your efforts.
Message from Alumni
BADAM, Rajashekar
Namaste and Hello, I am Badam Rajashekar from India. I finished my bachelor and master degree from Sri Sathya Sai Institute of Higher learning (ranks amongst the top 10 universities accredited by National Assessment and Accreditation Council, India). Later, I joined Matsumi laboratory (School of Materials Science) at JAIST as a post-master researcher in January, 2013. After 9 months as a researcher, I enrolled in the 3D "doctoral" program and later, I was adopted for MEXT Scholarship from Govt. of Japan. I continued my research in Matsumi lab and successfully finished my PhD in exact 3 years of time. My life at JAIST was a big learning curve and the travel all along was a beautiful memoir.
I consider that the conglomeration of brilliant professors, systematically designed curriculum along with well-equipped laboratories are the key points to select any university for studies as well as research. These three key aspects act as a good platform for nurturing and training the young aspiring minds. JAIST is one of those places, which is equipped with all these prerequisite qualities. The advance research topics and the number of patents and publications are some of the outcomes of the above aspects.
A set of well supported and encouraging professors in lab made me feel at home and I still feel it's a 'home away from home'. JAIST being an education hamlet little away from the city gets all its serenity and peace. The best part is that, the natural beauty that surrounds the university not only keeps the environment pure but also, the mind. A walk around JAIST at any part of the year will enthral and make the mind very relaxed and as rightly said "a relaxed mind is a creative mind".
Another important aspect in the present scenario of the globalizing world is to get the right exposure. JAIST has an academic collaboration with more than 30 different countries involving students and faculties, providing all its members, an exposure to different languages, cultures and mind-set of people from different places. The institute also provides financial aids for attending conferences and meetings within Japan and worldwide.
With all these ingredients, JAIST enabled me to earn a quality PhD and outstanding Student Award in September 2016 for the School of Materials Science and has helped me in growing personally and professionally in life. This development helped me in gaining a position as a postdoctoral fellow at Surface Science Laboratory, Toyota Technological Institute, Japan, immediately after my Ph.D. I thank my professors and JAIST for all that they have instilled in me for life and living during the journey.
2013 Autumn in JAIST
Presentation at Innovation
Japan 2014
List of articles on JAIST International Student News