JAIST International Student News(2013)
We release the current statuses of international students in JAIST and the former international students of JAIST who are successfully working all over the world.
International students joined Otabi Festival with carrying portable shines!
8 Vietnamese students from JAIST participated in Otabi Festival held in Komatsu city, Ishikawa on May 11, 2013 with carrying portable shrines. The special portable shrine, which weighed approximately 2 tons and was carried once in many years, was carried from Motoorihiyoshi Shrine to celebrate the open of "MIYOSSA HIKIYAMA MUSEO" which was the museum of traditional art crafts and performing arts. International students from JAIST could join in carrying this special portable shrine. In despite of a rainy day, students and about 40 experienced local people carrying the portable shrine walked through Komatsu city with saying "Wasshoi. Wasshoi."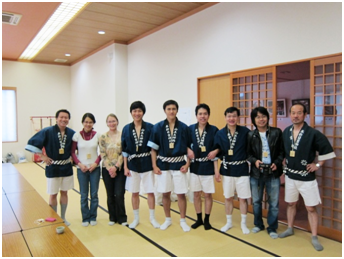 With Mr. Hosokawa(Motoori, Komatsu)
He took care of students for this event.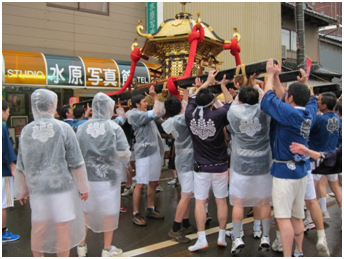 Students joined in carrying
this portable shrine on the way.
They tried holding it higher not to be outdone by local people.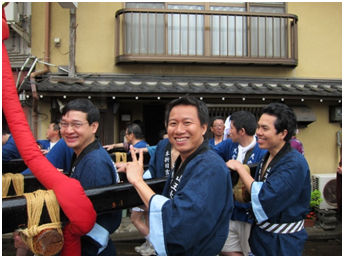 They were getting used to carrying
and showing relaxed smiles.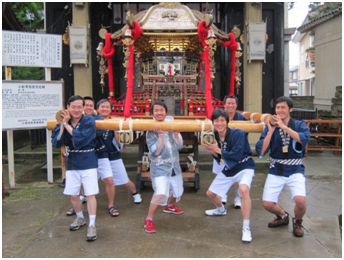 In front of the warehouse for portable shrines
at Motoorihiyoshi Shrine.
With the king-sized portable shrine
they were going to carry in the afternoon.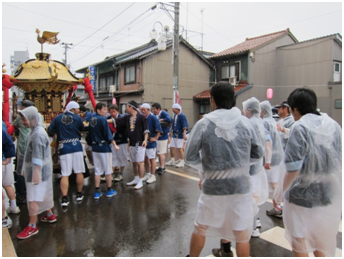 A portable shrine is a conveyance for enshrined God.
In a festival, people carrying a portable shrine
walk around houses nearby a shine and wish
for the safety of their home.
Students carried this portable shrine in the morning.
They looked a little nervous because this was the
first time for them to carry a portable shrine.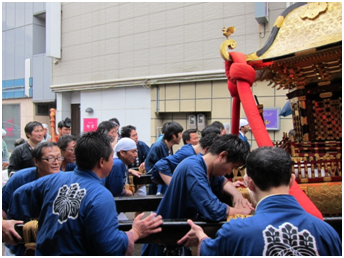 With advice from local people, they firstly carried
the back of the portable shrine to get used to it.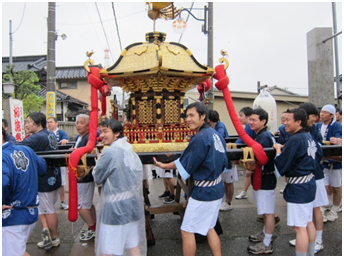 It was all done for the morning part.
They were going to carry much bigger one
in the afternoon.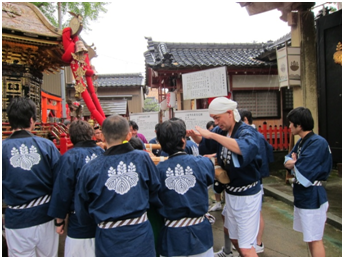 The portable shrine was leaving.
It was carried by much more people than the morning.
They were told how to carry it.
It might get hurt on their back if they carried in the wrong way.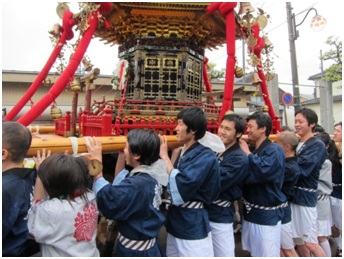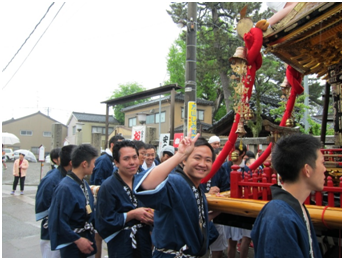 International students carrying the portable shrine

Approaching the central part of the city,
they met another portable shrine.
They performed powerfully in the cheering crowd of local people.
We joined the exchange event of Nomi International Friendship Association!
14 JAIST international students and their family members participated in International Exchange Salon in Nomi "Make friends from all over the world" held in Negami synthesis Cultural Center on June 9, 2013.
*"International Exchange Salon in Nomi" is held in several times a year by Nomi International Friendship Association (http://tifa.iki-iki-nomi.net/c1.html) to deepen friendships between Japanese and people from the other counties . This is the first event of this fiscal year.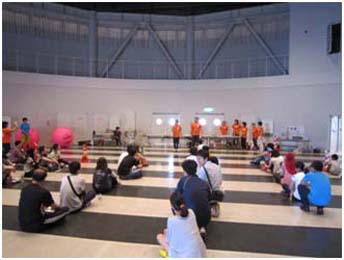 We played easy games with teams for this time.
Every team made a line and waited for a beginning.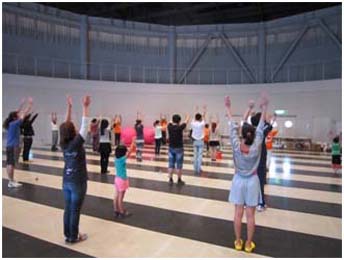 Warm-up exercises by radio calisthenics.
We played games with this ball today.
Teams made 2 groups to play a ball carry race first.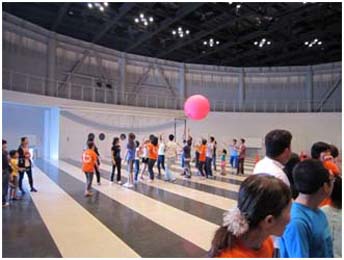 Carrying the ball forward over the head…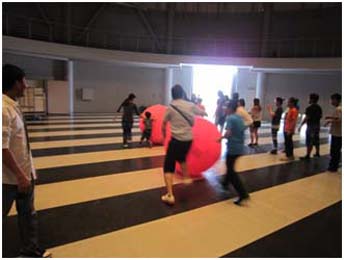 And the last members of the line rolled over
the ball to the first position. Hurry up!
Next game was to throw the ball to the other teams.
Once you drop it, you lose the game.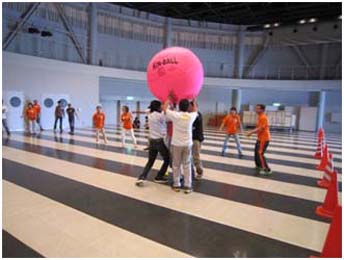 Raise the ball and throw it to the others!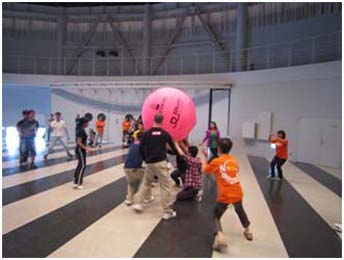 Good catch! Which team should we throw it to?
Having a chat after games…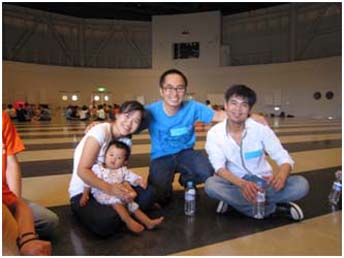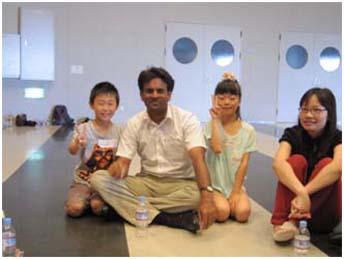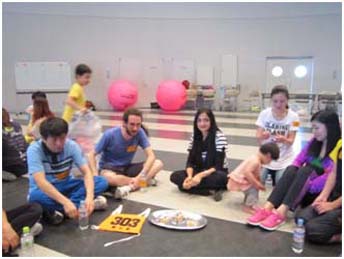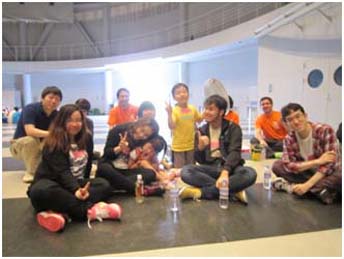 Students in the short term stay program also participated in this event.
It will hopefully become a good memory for them!
Kanazawa Coast Guard Office held the workshop on offshore currents
There was a regrettable water accident at Uchinada beach on July 14, which 3 of JAIST students involved. One lost his precious life and one went into a coma. According to testimonies of a student who was rescued, police and people from the beach, it is assumed that this accident occurred by offshore currents.
Kanazawa Coast Guard provided an explanation about offshore currents at JAIST on August 9 because of the above and here is a picture of that occasion.
They explained the mechanism of offshore currents and how to deal with it and introduced beaches where offshore currents have been found several times in the past. Students participated in this workshop eagerly listened to explanations
The International Student Section offers leaflets distributed on that day and its English version. Please come to the International Student Section if interested.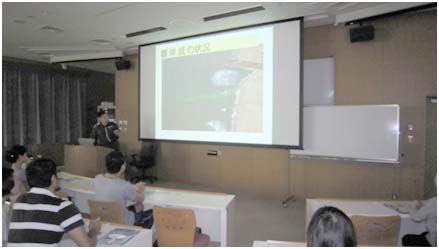 *We regret to notice that one of students who were in coma passed away on August 20. We would like to offer our deepest sympathy to 2 students who passed away by this accident.
JAIST international students joined Tatsunokuchi festival!
JAIST international students participated in Jonkara dance contest at 32nd Tatsunokuchi festival held in front of Nomi City Hall on August 24. Approximately 1200 Jonkara dancers made up teams and kept "Tatsunokuchi Jonkara", which is a traditional dance in region, for one and half hours. They competed with each other in dancing over beauty, team work, cheerfulness and so on.
12 international students joined this contest as members of JAIST team with JAIST staff members and Japanese students this year. Some looked exhausted toward the end because they had to keep dancing for a long time. But everyone enjoyed dancing so much in the same Yukata.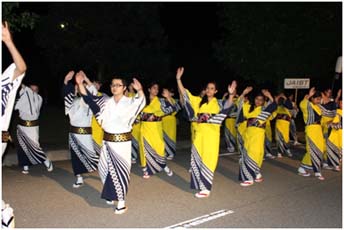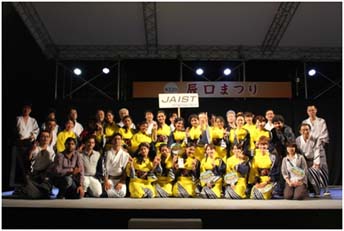 JAIST students at Komatsu Global Seminar
Komatsu city which is a neighboring city of Nomi city has held "Komatsu Global Seminar : Hello World" since 2013 to develop an international urban design with the image that people from other countries and Japanese can exchange actively. In this seminar, foreign nationals talk about their cultures and lives in Japan to the 5th grade of elementary school students in Komatsu and they exchange each other through games and songs. Komatsu city expects to nurture human resources who can actively have relationships with foreign nationals through this opportunity.
15 JAIST international students visit to 25 elementary schools in Komatsu this time. The followings are pictures from first seminar at Ataka elementary school on August 26 and Mr. MA, Siwei (China : Knowledge Science) and Mr. AHMED, Toufiq (Bangladesh: Knowledge Science) were there as lecturers.
Elementary school students eagerly listened to presentations of JAIST international students and they could have pleasant classes filled with questions and laughs afterward.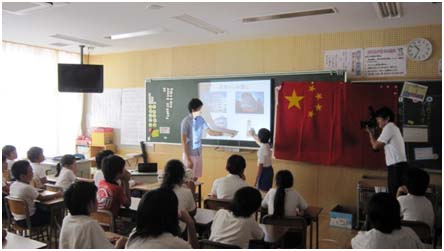 Mr. MA, Siwei was talking about Japanese products which were fads in China.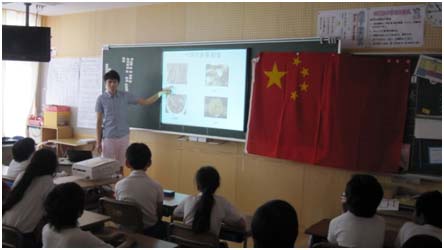 Then he was explaining about Chinese food.
There seem to be 8 categories of cooking styles such as Szechuan food.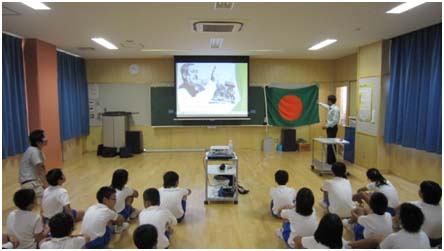 Mr .AHMED, Toufiq was firstly talking about the national flag of Bangladesh.
Red circle in the middle of the flag shows plenty of blood which were shed for the independence of their country.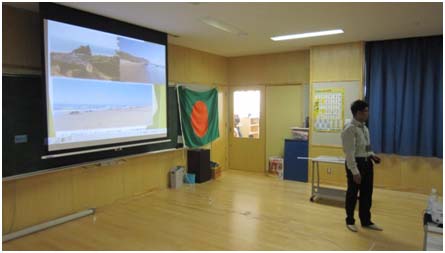 There seem to be the longest coast in the world (100 kilo meters!)
This surprised all the kids!
JAIST international students joined the event held by Nomi International Friendship Association!
On November 17, "Welcome to our international food fair!", the international exchange event organized by Nomi International Friendship Association, was held at Tatsunokuchi Wellness Centre in Nomi city.
In this event, foreign nationals living in Nomi city cooked and served their local cuisines and desserts and that earning will be donated to support sufferers of the Tohoku-Pacific Ocean Earthquake occurred in 2011.
JAIST students also participated and served foods at the booths of their countries. We visited and checked out the event!

There were 10 booths of various countries
including Japan!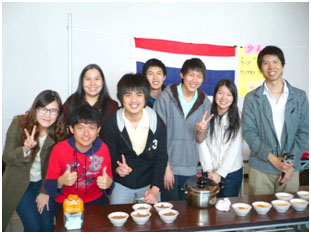 Thai students at their booth.
Larb (pork dressed in herbs) on the left
in the picture tasted extremely hot!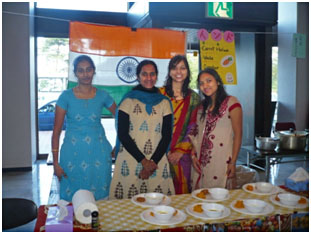 At the booth of Indian students.
They served healthy curry
with a plenty of vegetable.
Their dresses also looked nice.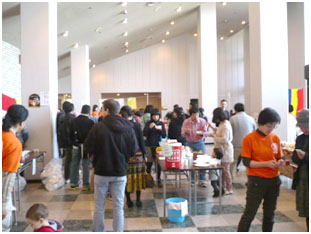 The venues were filled with visitors who
enjoyed eating and looking for foods.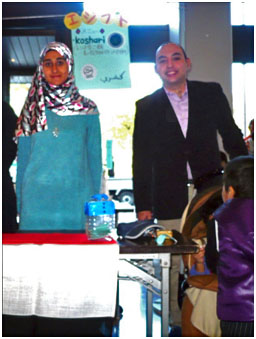 At the booth of Egyptian student.
They served rice with beans
which is popular in Egypt.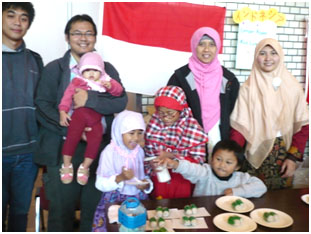 We could have homemade-looking rice dumplings and cakes at the booth of Indonesian students.
We have conducted ASIAN Short-term Stay Program.
JAIST is aggressively conducting short-term stay programs such as internships. This time, we would like to introduce one of programs, ASIAN Short-term Stay Program.
We allow international students from the institutes in Asia, which have academic exchange agreements with JAIST, to do their research works at JAIST for one or two months and over half of participants have joined the program with support from Japan Student Services Organization Student Exchange Support Program (Scholarship for short-term study in Japan).
We are having students from India, Bangladesh, China, Thailand, Vietnam, Malaysia and Indonesia in FY2013.
The purpose of ASIAN Short-term Stay Program is not only to allow students to stay at JAIST as interns. But it intends to let students who are considering to enroll in JAIST learn the environment of research studies at JAIST previously. Over 20 students have actually enrolled in JAIST after joining this program in the past.
These are pictures of students joined this program and taken as farewell right before they left for their home countries after the program.
We hope the experience at JAIST will help their carriers as researchers or engineers in the future and see them again as researchers or students of JAIST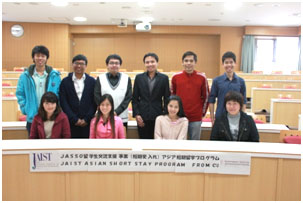 10 students from Chulalongkorn University
(School of Materials Science)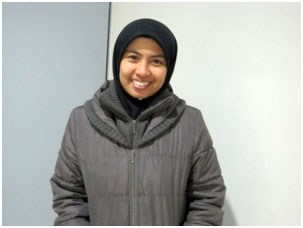 Student from Universiti Sains Malaysia
(School of Materials Science)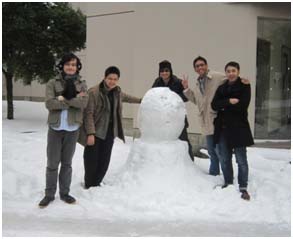 Students from Institut Teknologi Bandung, Indonesia
(School of Information Science)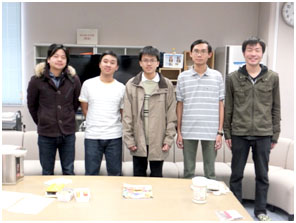 students from Vietnam National University,
Ho Chi Minh City and their 2 tutors
(School of Information Science)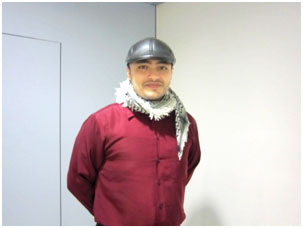 Student from Universiti Teknologi Mala, Malaysia
(School of Information Science)
International Students tried to make Kadomatsu!
The event to make Kadomatsu which decorates the gate of house with pine branches for the New Year was held by "Nomi International Friendship Association" the organization for international exchanges in Nomi city on December 15 and JAIST international students participated in it.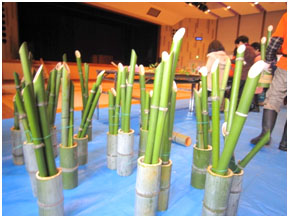 Bamboos for Kadomatu.
Which grew in Nomi city were used.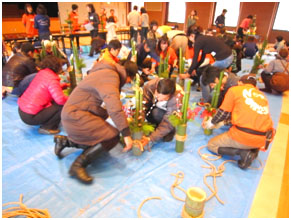 JAIST international students learned how to make it by locals.It looked a little tricky…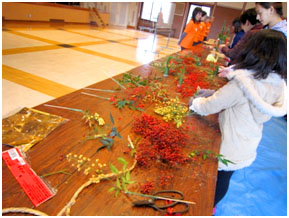 Pine branches, flowers, fruits and seeds for decoration. Local children also participated
in the event.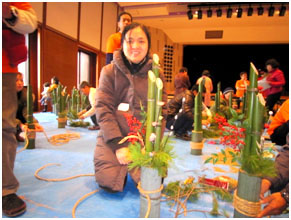 Decorations with pine branches and flowers.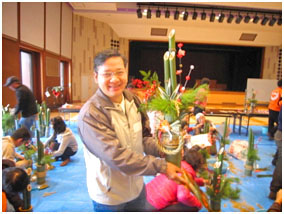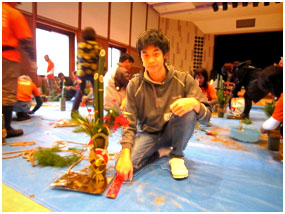 It has all done with a sacred straw festoon!
List of articles on JAIST International Student News