JAIST International Student News(2020)
We release the current statuses of international students in JAIST and the former international students of JAIST who are successfully working all over the world.
Dear international students who plan to enroll in JAIST
Hello everyone, I'm TIENG KIMSENG from Cambodia. I was a dual doctoral degree student between the Sirindhorn International Institute of Technology (SIIT) Thamatsart University and JAIST, I completed my doctoral program in September 2020.This is my great pleasure to share with new students who intend to join master or doctoral degree programs in the upcoming year. Now let me share four reasons why you should choose to pursue further study at JAIST.
First, students can experience differences among the four seasons in Japan. You can enjoy cherry blossoms during spring, clear blue-sky and sunset during summer, red maple tree during autumn, and snow during winter. Students can also taste different types of Japanese food in accordance with each season. JAIST is the perfect place for nature-lovers where students can borrow the free bicycle and you can go to the Tedori River or the Sea of Japan etc. Also, students can enjoy running along the rice fields under cherry blossoms, hiking at the foot of the Mt. Hakusan,enjoying galaxy view during nighttime around the campus, and skating or skiing
during winter nearby.
Second, JAIST is located on the hill, and it is a perfect place for students who need to focus on their academic research. JAIST provides full facility supports for master and doctoral degree students. For instance, students can enjoy reading books at or borrowing books from the library (24/7), accessing a JAIST server and staying in the lab at any time, using surface with full version software from JAIST for research.Even though the campus is a bit isolated, JAIST provides free shuttle bus to connect with train stations and shopping malls.
Third, JAIST provides multidisciplinary courses across different schools to the students.This means that students who join the school of Knowledge Science (KS) can also take courses from the other school (Material Science (MS) and Information Science (IS)) if students are interested in, and it's for also students who join the school of MS and IS. With long academic and industrial experience of faculties' members, this system helps students to gain multi skills and knowledge across their states of interest and fields of research.
Finally, JAIST is truly an international graduate university where almost 50% of the graduate students come from foreign countries, e.g., China, Vietnam, Thailand, Indonesia, Myanmar, Laos PDR, Jamaica, India, Malaysia, Pakistan, Bangladesh, and Kenya. Also, JAIST often organize different culture programs, such as homestay with local people,tour of visit historical sites, Culture Experience excursions. Those experience are support students to learn new cultures and live this community.
Thus,JAIST is one of the best graduate university for international education.
I hope that everyone will have wonderful experiences at JAIST as I did.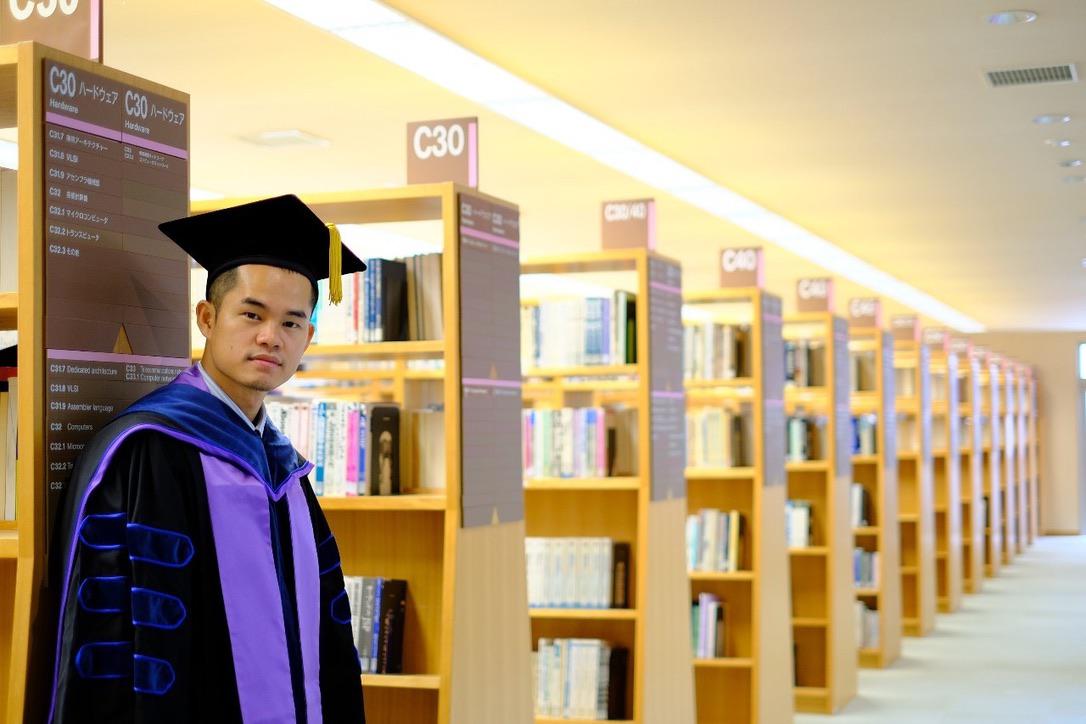 At the library, after the
Degree Conferment Ceremony
Field Trip(Shirakawa Village)
TIENG KIMSENG
Ph.D. in Knowledge Science (2020)
Dear international students who plan to enroll in JAIST
Hi everyone,
Do you ever think that studying in Japan will make a big change in your life? Here's my very personal story that I would like to share with you.
It all began with a short conversation between me and a staff of the training center in Vietnam: "I would like to join for a martial art class, could you please suggest me one?" "How about Karate-do?" I decided to join it, and then through the class, I always think about going to Japan - the motherland of Karate-do someday. And I also really like to see the real Japanese streets and houses that are engraved in my childhood memory through "Doraemon" manga.
And that's a dream came true when I came to Japan in Oct. 2017. You might be told that Japanese people are so busy, they do not have time for personal conversation, and they work like robots, big cities are beautiful but lonely, etc... For me, that was not true.
We have many good friends from football team, Karate dojo, and laboratory. One advantage of JAIST is located in the suburban area of Ishikawa prefecture, that makes the living and studying in JAIST is a totally different experience compare with other universities in big cities. You will be provided with the fresh, natural environment and high tech equipment for your study, many leisure services are also free such as gym, football, tennis, badminton, and of course basketball, and you can also enjoy other activities from several circles. That's perfect for those who love the natural and quiet environment.
Still , just 30min by train ,you will be in the heart of Kanazawa city where has a Ishikawa ongakudo (kind of Opera house in Kanazawa where JAIST students can get limited free tickets sometimes), kenrokuen - one of the Three Great Gardens of Japan, and Kanazawa castle. For those who love western style stuff, "Costco" is also 20 min by car. I also participated in many monitoring tours that operated free by the Ishikawa municipal and JAIST that take us to famous sightseeing places in the Hokuriku area as well as to Kyoto. Those quality is surprisingly great, not lower than the hospitality industry provides.
My study is not limit in Japan only, there are many exchange program and grants can be applied for JAIST, JASSO, JSPS and they could enable you to achieve a meaningful, effective research experience to do research in big companies such as HITACHI, SONY, FUJITSU and other institutions as I did in the University of Edinburgh, UK. Moreover, the staffs from Student Affairs department, Educational Affair department, career support sections are super helpful, with their dedicated, detail and unconditional supports, we can focus on our achievement targets. With their help, I got a very good offer from one of the biggest Japanese conglomerates 4 months before graduation.
Some will afraid to come to Japan with little Japanese skill, and me either. But JAIST is doing that - providing the best place where is international, modern studying environment blend with the hospitality of staffs, the kind gesture of locals, the fresh air, and the amazing seafood of western Japan for students.
Welcome to JAIST! All the best for your exciting adventure!
NGUYEN,Ba Hung
Ph.D. in Knowledge Science (2020)
List of articles on JAIST International Student News